Webinar with Dieter Duhm: "50 Years after 1968: How Can We Overcome Capitalism Today?"
Dr. Dieter Duhm, co-founder of Tamera, psychoanalyst and spokesman of the "new left" in the 1968 German students' movement, gained fame with his best-selling book Angst im Kapitalismus [Fear in Capitalism]. Today, 50 years later, he will speak about how he has furthered the anti-imperialistic ideas from back then, how we can liberate ourselves from all kinds of violence and fascism and how the struggle for a necessary revolution has now evolved into the task of working for global healing.
Program Details
On Sunday May 27, we will offer a 90-minute live webinar with Dieter Duhm. In the first 45 minutes, he will be interviewed by Martin Winiecki and will speak about his lessons from the 1968 movement, how today's revolutionary movements can actually make a difference and why revolutions can succeed if – in addition to all political, economic and ecological questions – they also include spirit, love and Eros.
After a 15-minute break, Dieter Duhm will answer questions from the audience (which you can send us via live chat). The event will be held in German, but we'll offer live English translation.
The webinar will be on donation. All those donating €5 or more will receive a free copy of the e-book, "Terra Nova: Global Revolution and the Healing of Love."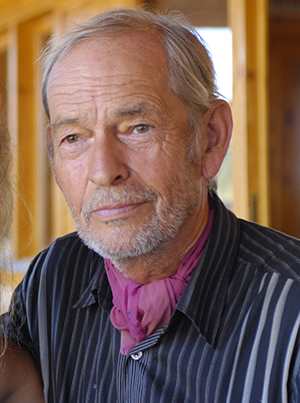 Dieter Duhm was born in Berlin in 1942, is a psychoanalyst and art historian and
holds a PhD in sociology. He was one of the leading thinkers of the Marxist left in the 1968 students' movement in Germany and gained fame after publishing his first book Angst im Kapitalismus [Fear in Capitalism], which combined the idea of political and
economic revolution with the idea of individual emancipation. Since 1975, he's increasingly distanced himself from leftist dogmatism and instead turned towards working on a deeper social alternative. In 1978 he founded the "Bauhuette" project,
a 3-year social experiment with 40 participants in southern Germany. He developed the "Healing Biotopes Plan," an applicable strategy for introducing global
peace. In 1995 he founded the Tamera Peace Research
& Education Center in Portugal with his partner
Sabine Lichtenfels and others.
He currently serves as the leader of the
internal education in Tamera's Political Ashram.
He's authored many books, including "The Sacred Matrix,"
"Eros Unredeemed" and "Terra Nova."
Find out more…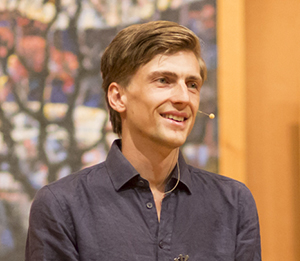 Martin Winiecki, born in Dresden in 1990, is a networker, activist and writer and the leader of Tamera's Institute for Global Peacework.
Find out more…
Time and Date
Sunday, May 27 2018, 10:00–11:30 am (BST)
Those who are in time zones that make it difficult to tune in live will receive the recording afterwards.
Price
On donation