Fazemos parte de uma coligação de grupos ambientalistas Portugueses e trabalhamos para cancelar todos os restantes contratos para exploração de petróleo e gás natural em Portugal.
Portugal tem condições ideais para se tornar pioneiro na transição da utilização de combustíveis fósseis para uma sociedade regenerativa.
Acção de Arte Aérea – Cova do Vapor

No dia 4 de Agosto, 800 pessoas reuniram-se numa acção criativa em protesto contra os planos de exploração de gás e petróleo ao largo de Aljezur, Portugal. Simultaneamente, demonstram alternativas para um futuro regenerativo, livre de combustíveis fósseis. ÁGUA É VIDA!
A imagem humana aérea foi desenhada por John Quigley da Spectral Q e filmada pela equipa de media de Tamera. As imagens estão publicadas ao abrigo da licença Creative Commons Attribution-Non Commercial. Créditos: Tamera Media / Spectral Q. Handout, editorial only, no archiving.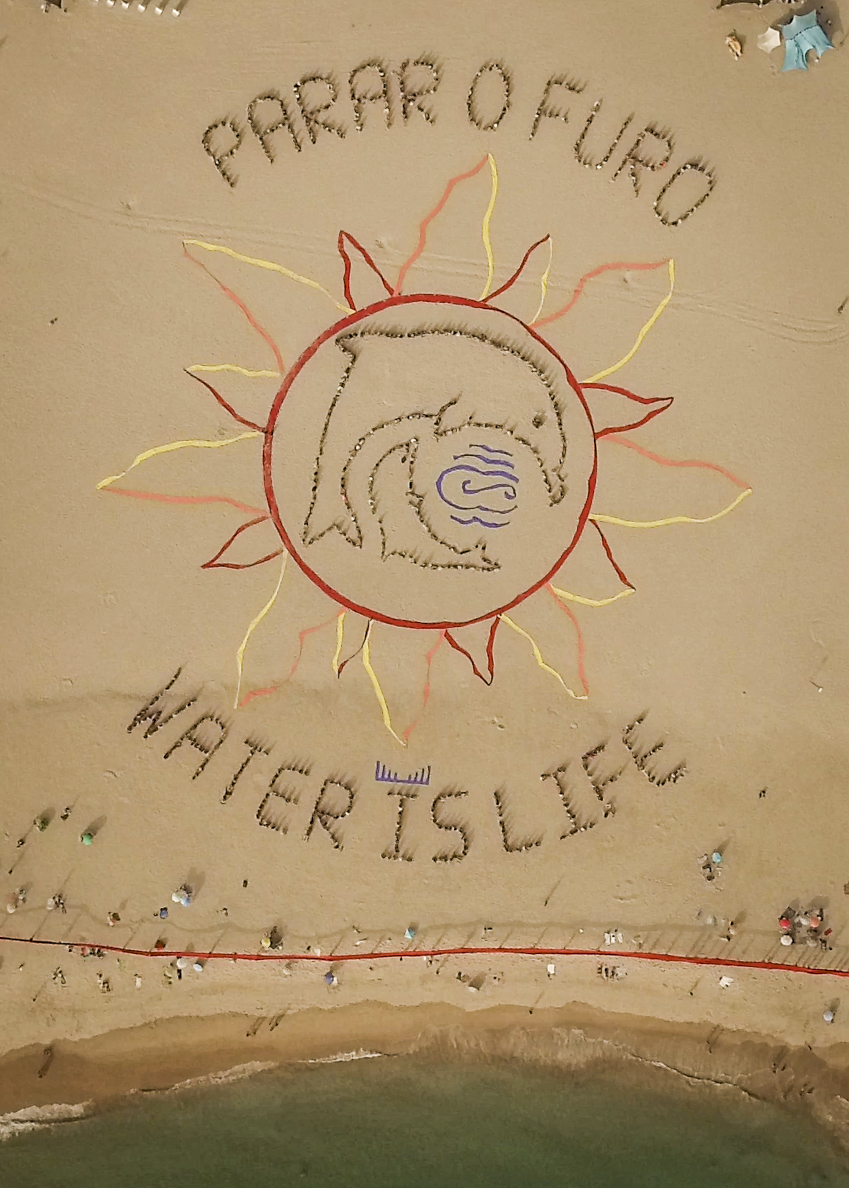 Faça download e partilhe esta imagem.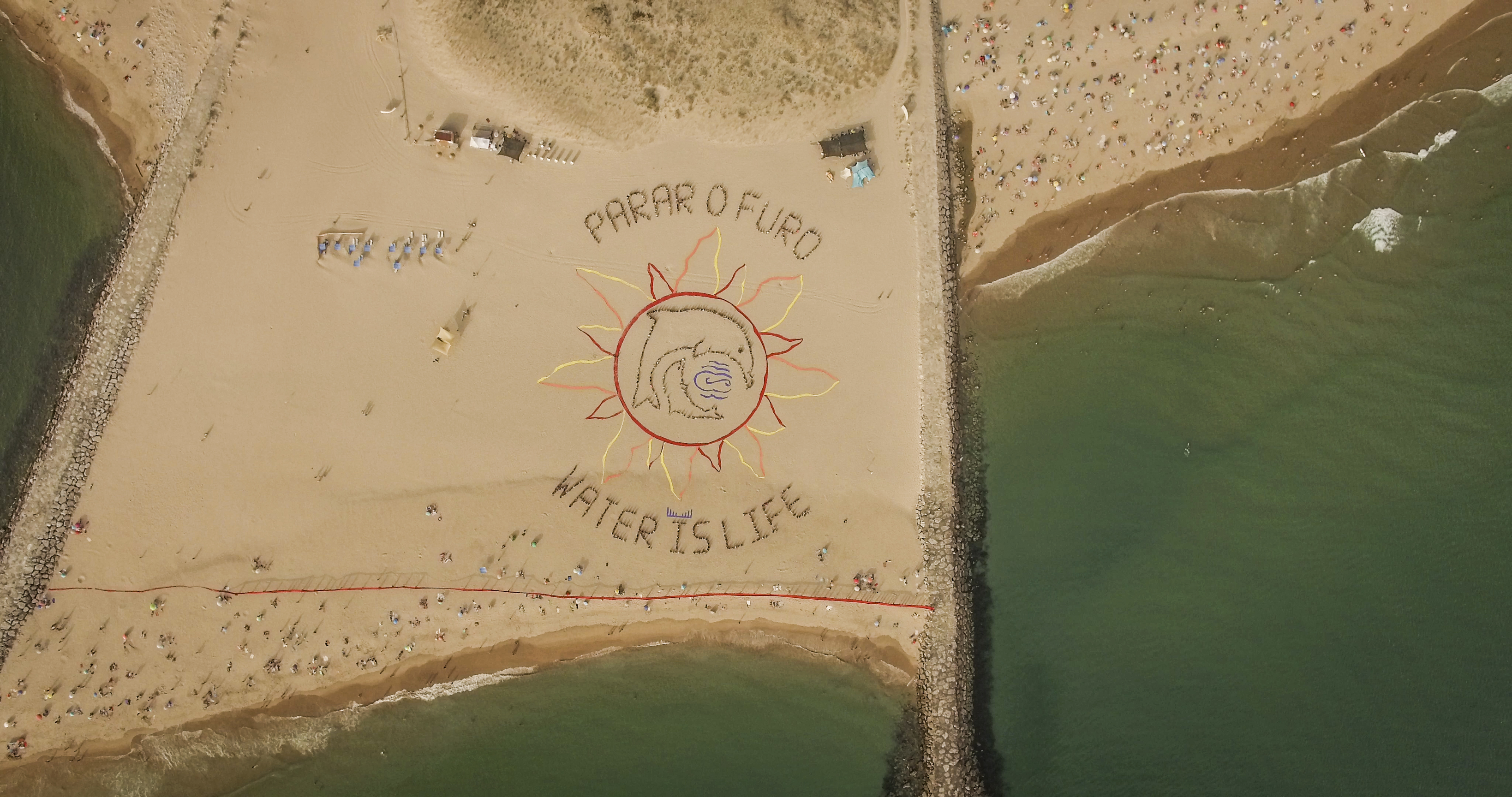 Faça download e partilhe esta imagem.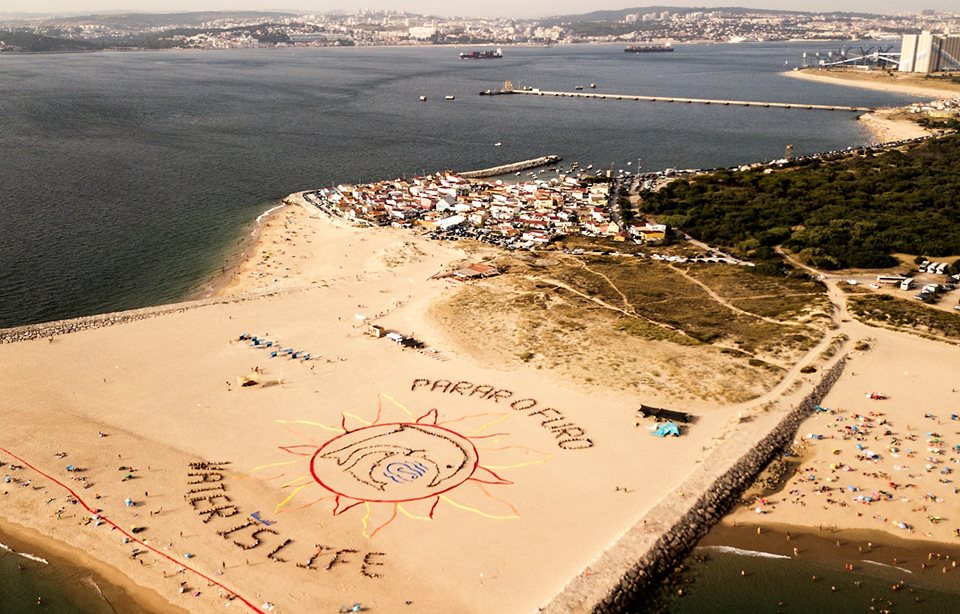 Faça download e partilhe esta imagem.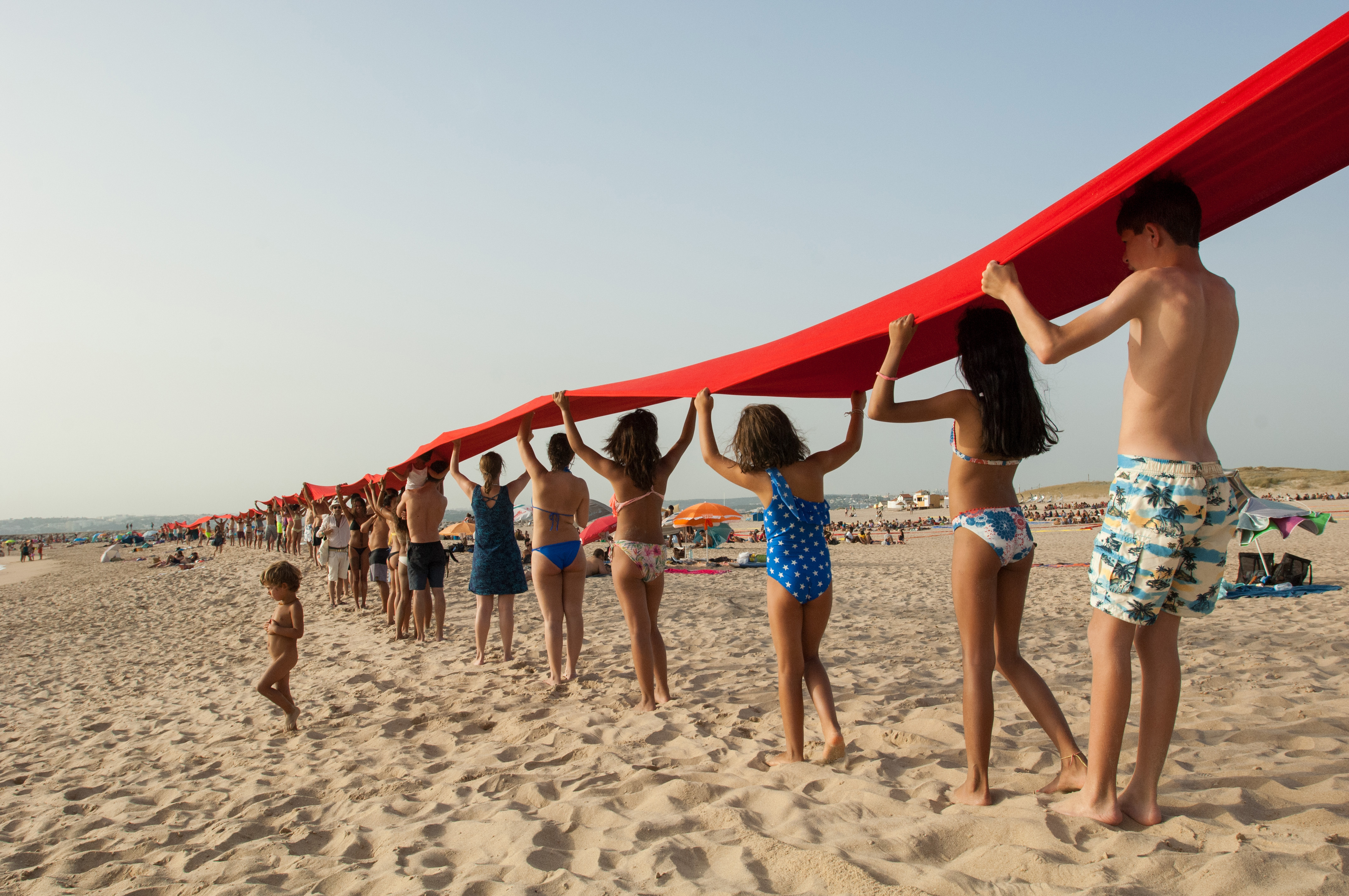 Faça download e partilhe esta imagem.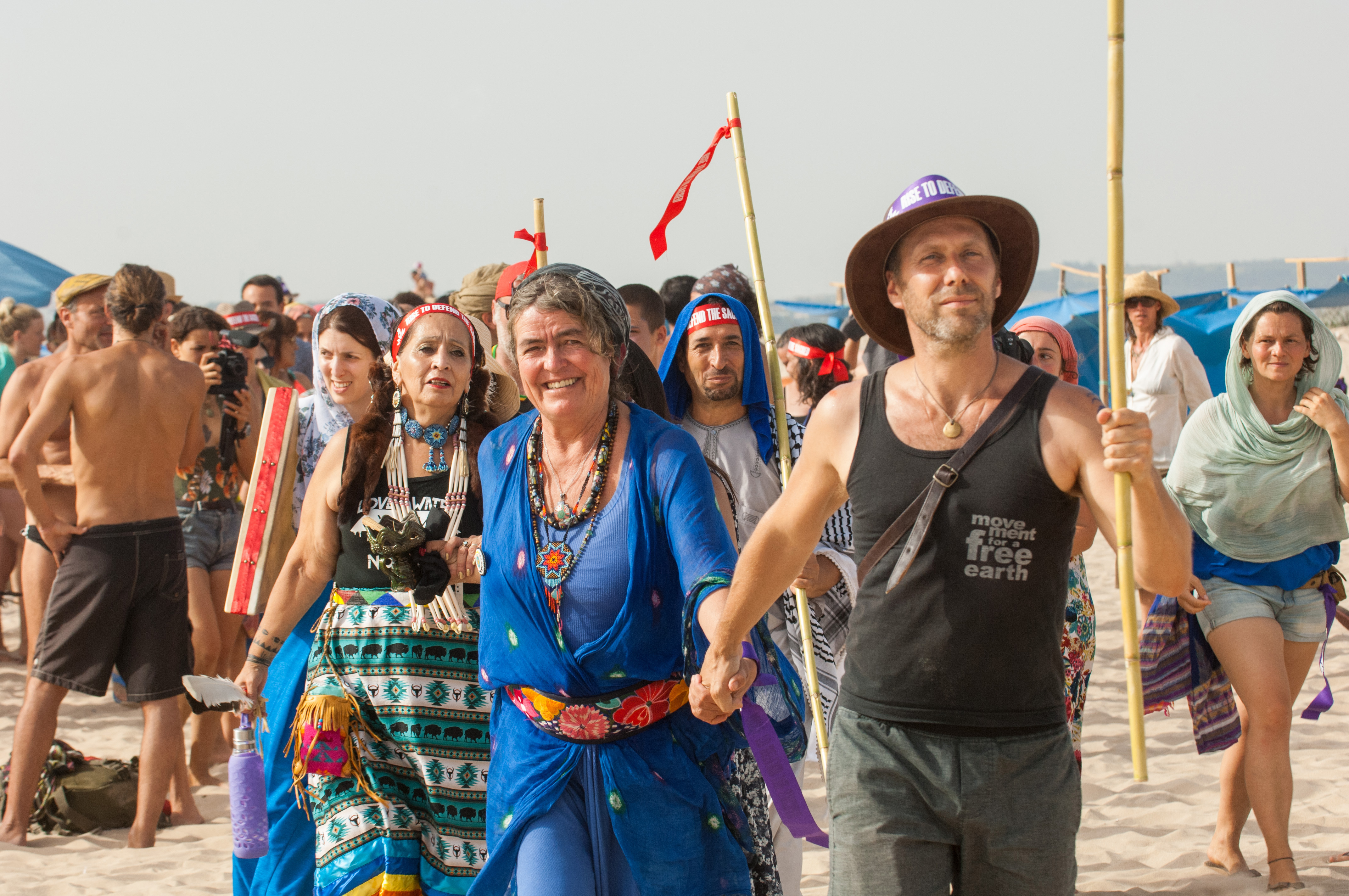 Faça download e partilhe esta imagem.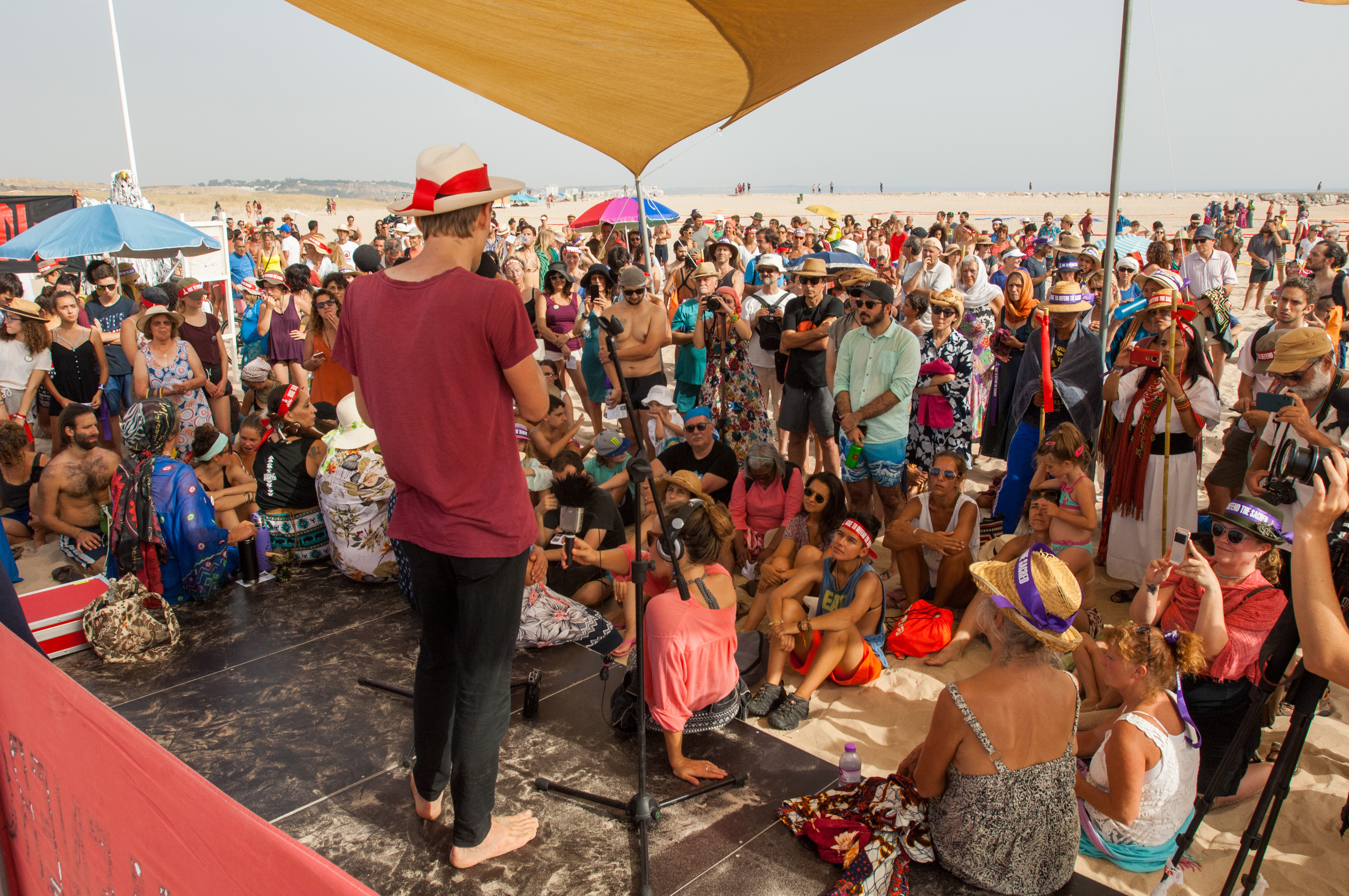 Faça download e partilhe esta imagem.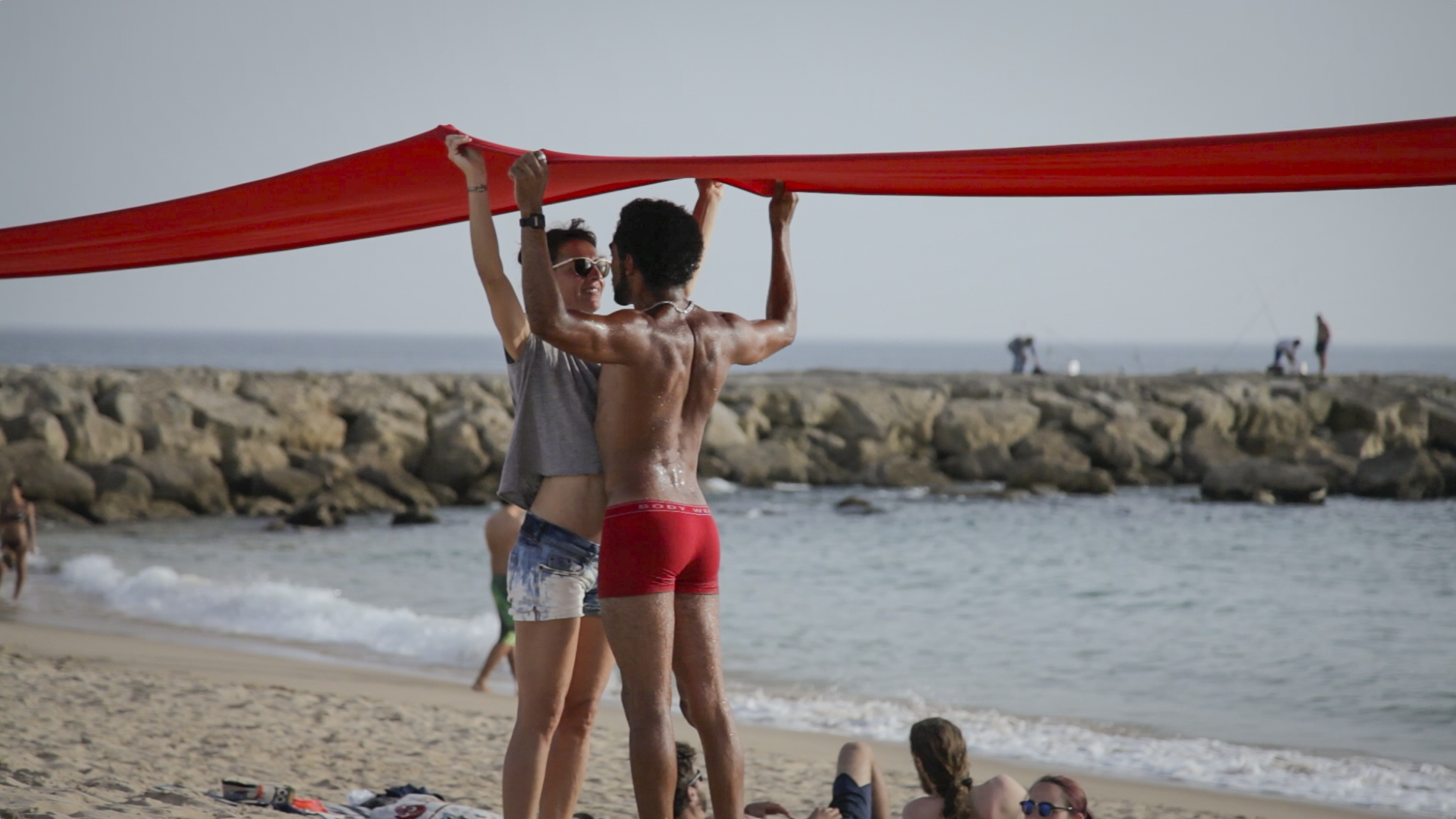 Faça download e partilhe esta imagem.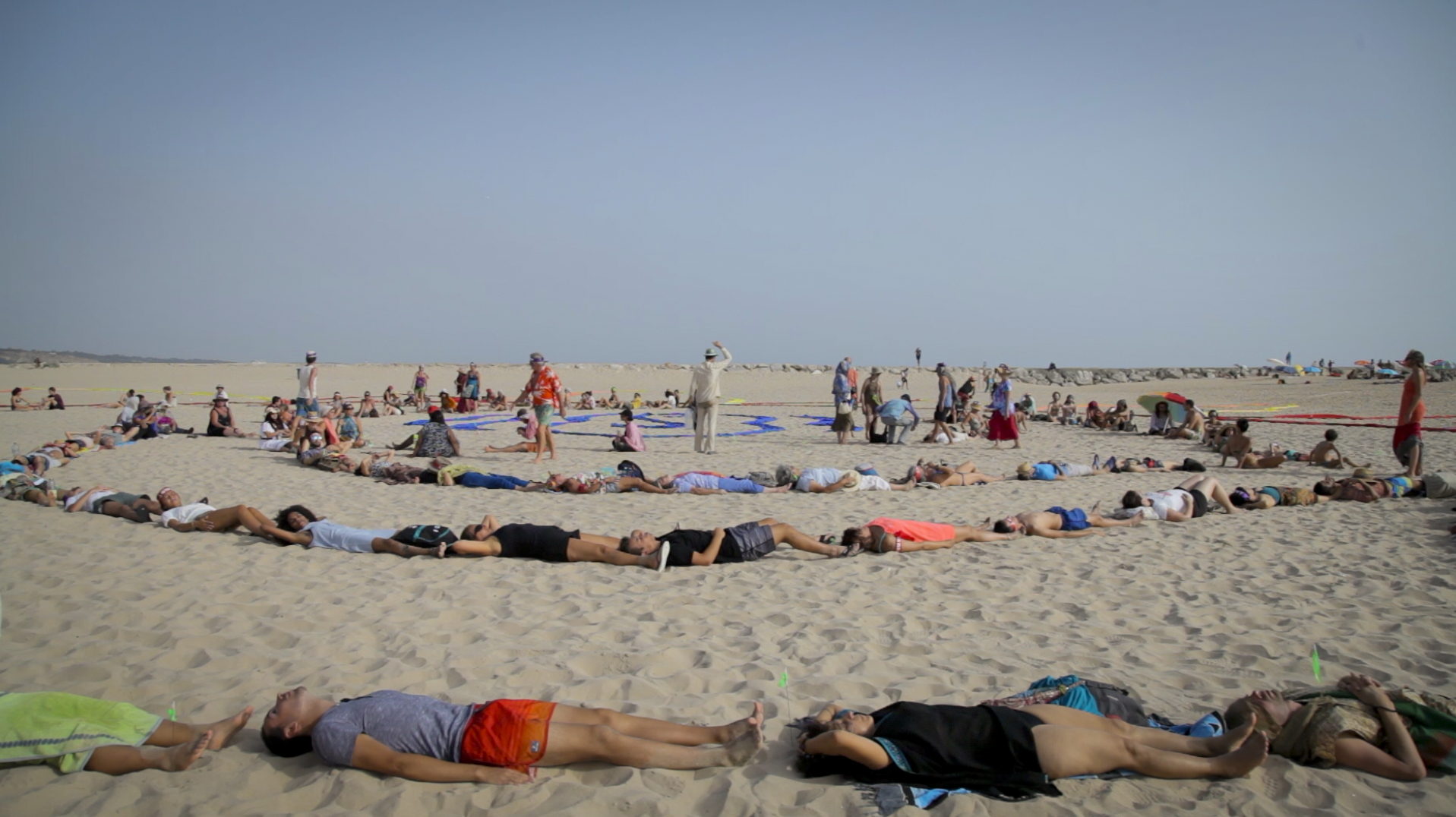 Faça download e partilhe esta imagem.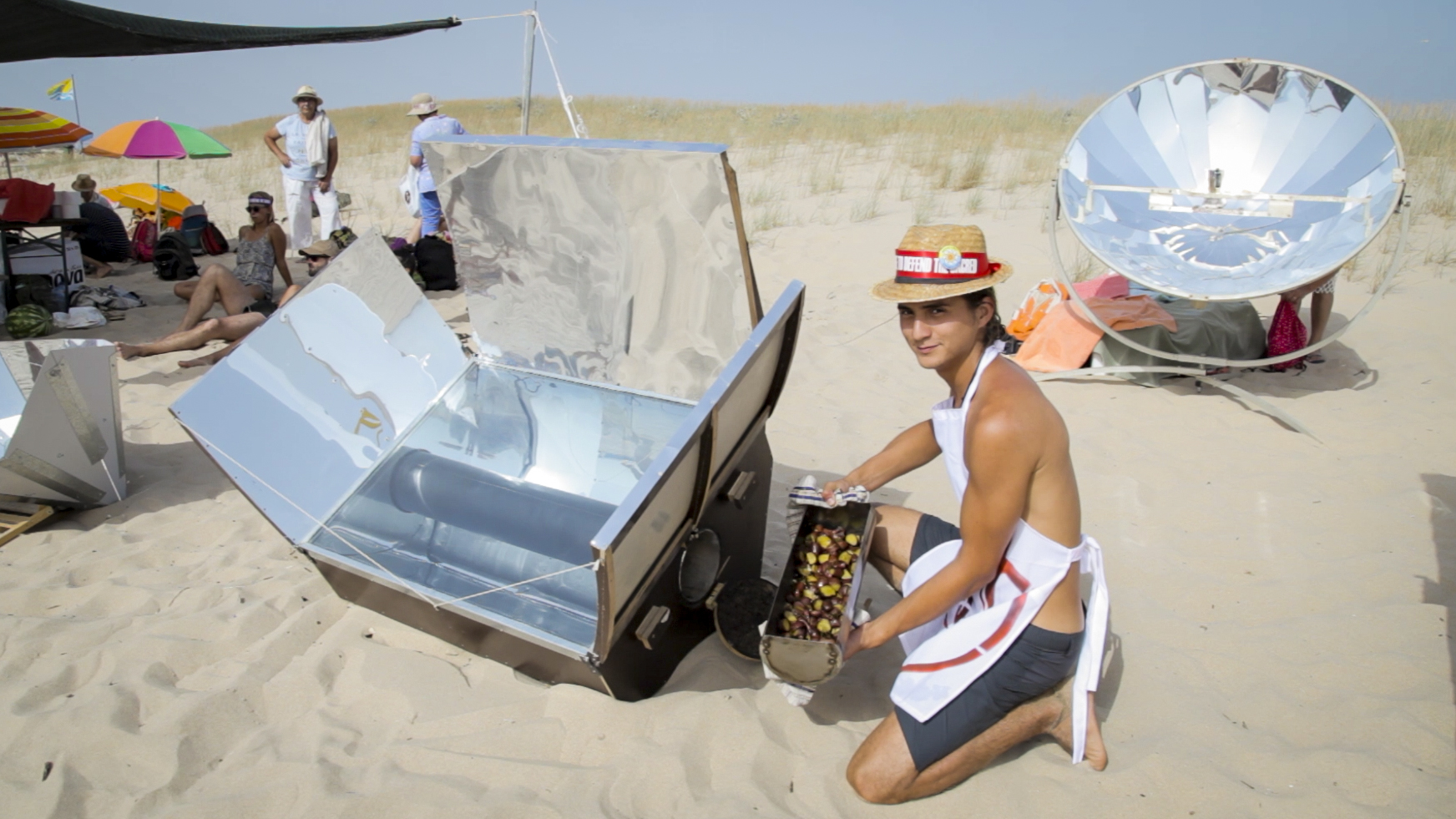 Faça download e partilhe esta imagem.
Comunicado de Imprensa (EN)
Faça download do comunicado de imprensa em Inglês.
Comunicado de Imprensa (PT)
Faça download do comunicado de imprensa em Português.
Apoie a nossa Carta Aberta
Inúmeros portugueses e pessoas influentes do mundo inteiro juntam-se a nós para apelar ao Primeiro Ministro António Costa e ao Ministro do Ambiente João Matos Fernandes para parar o furo e mostrar que Portugal pode ser pioneiro na transição energética, afastando-se da energia fóssil e dando passos rumo a uma economia e sociedade regenerativas. Leia a carta aberta ao Governo…
Na crescente lista de vozes a subscrever esta carta, inclui-se a Região de Turismo do Algarve, a Federação Portuguesa de Surf, e outras vozes internacionais como a Greenpeace International, a dramaturga Eve Ensler, e Maude Barlow do Concelho Canadiano.
Veja a lista de subscritores:
Invisible
This one is added so that the other three all default to closed
Internacional
Amber Valletta, modelo, atriz e ativista
Ashlan & Philippe Cousteau, conservacionistas do oceano e apresentadores de TV
Daryl Hannah, atriz e ativista
Debbie Levin, Presidente e CEO da Environmental Media Association
Ed Begley, ator e ativista
Eve Ensler, dramaturga, escritora e fundadora de One Billion Rising
Food and Water Europe
Global Ecovillage Network
Greenpeace International
Jason Hickel, Antropologista na London School of Economics
Ladonna Brave Bull Allard, activista de Lakota & co-fundadora do campo de resistência de Standing Rock, EUA
Lori Woodley, fundadora de All it Takes
Maude Barlow, presidente de The Council of Canadians, galardoado com Right Livelihood Award
Monique Wilson, coordenadora global de One Billion Rising
Patch Adams, médico, palhaço activista, fundador do Instituto Gesundheit!
Positive TV, Reino Unido
Rabbi Michael Lerner, redactor-chefe da revista Tikkun, EUA
Rights of Nature, Reino Unido
Rising Up!, Reino Unido
Rob Hopkins, Transition Network
Ruth Andrade, co-fundadora da Blueprint Alliance & responsável pelo desenvolvimento ambiental & organizacional na LUSH
Saad Dagher, engenheiro agrónomo & ambientalista, Palestina
Salim Dara, professor de agricultura biológica & fundador de Solidarité Rurale, Benin
Shaun Chamberlin, Director Geral de Fleming Policy Center, Reino Unido
Shailene Woodley, atriz e ativista
/The Rules
Wellington Nogueira, palhaço activista e fundador de Doutores da Alegria, Brasil
Wendie Malick, atriz e ativista
Winnie Wong, co-fundadora de "People for Bernie"
Assine a Petição
Para apoiar a Carta Aberta criámos uma petição na Action Network. Apoie esta campanha e assine agora a carta aberta!
"Actualmente já existem todas as soluções tecnológicas necessárias e fontes de energias renováveis para dar vida a uma sociedade justa ao nível ecológico e social."
DANIEL PINCHBECK
Em Tamera temos investigado a criação de um modelo para a construção de uma sociedade regenerativa. Há muitos anos que desenvolvemos e testamos tecnologias de fontes renováveis e descentralizadas no nosso Campo Experimental de Energia Solar. Em consequência do nosso trabalho com Paisagens de Retenção de Água e regeneração de ecossistemas, demonstramos como reverter a desertificação e como alcançar um abastecimento autónomo de água, quando cerca de 80-90% de Portugal sofre de seca extrema. Colaboramos com o movimento "Rain for Climate" ("Chuva pelo Clima") no sentido da implementação de um plano de acção global para restaurar o clima e os ciclos hidrológicos naturais.
Existem muitas outras organizações e pessoas que investigam temas semelhantes, trabalhando na formação de povoamentos regenerativos e de uma sociedade na qual todos se podem tornar auto-suficientes em água, energia e alimentação, estabelecendo habitações e saneamento básico independentes dos sistemas centralizados.
Esperamos contar com a presença de tantas pessoas quanto possível para a realização desta acção de arte aérea, para criarmos redes e enriquecermos o intercâmbio de ideias.
Factos importantes
Actualmente existem 5 contractos activos: 3 concessões para perfurações em águas profundas, prospecção essa nas mãos da Eni e da Galp, incluindo um furo na costa de Aljezur, e 2 concessões para prospecção de gás natural no Distrito de Leiria, na posse da Australis Oil.
Das 15 concessões iniciais para prospecção de petróleo e gás natural em Portugal, 10 já foram canceladas no decorrer dos últimos 3 anos devido à oposição organizada pelas populações locais, municípios e activistas.
Portugal nunca explorou petróleo nem gás natural, nem construiu centrais nucleares e é conhecido como um paraíso para as energias verdes.
Na COP Marrakesh 2016, o Primeiro-Ministro António Costa prometeu libertar Portugal do Carbono até 2050.
Portugal produziu mais energias renováveis do que o necessário para consumo nacional em Março de 2018: 104%.
Sendo um dos países com maior exposição solar na Europa, Portugal poderia depender exclusivamente de energia e tecnologias solares.
Portugal está localizado numa falha tectónica que se encontra sismicamente activa, nomeadamente na zona do Vale do Tejo que passa por Lisboa. As prospecções petrolíferas e de gás natural tendem a provocar a ocorrência de terramotos.
A APA, Agência Portuguesa do Ambiente, autorizou que a prospecção petrolífera na costa de Aljezur se iniciasse entre Setembro de 2018 e Janeiro de 2019, sem uma Avaliação de Impacto Ambiental prévia. No dia 13 de Agosto, o Tribunal Administrativo de Loulé suspendeu a licença TUPEM, adiando a prospecção, no seguimento de uma providência cautelar interposta pela PALP. A 29 de Outubro, numa mudança de rumo inesperada, a Galp e a Eni declararam retirar-se voluntariamente da busca por exploração de petróleo, afirmando não consagrar novos contractos com o governo Português, após o término do contracto existente (Janeiro de 2019).
A prospecção de gás natural em Alcobaça, perto do Santuário de Fátima, situada num dos maiores reservatórios naturais de água da Europa, está agendada para 2019. Os especialistas confirmam que a única forma de explorar gás neste local é com recurso ao "fracking".
67 cientistas Portugueses publicaram uma carta aberta ao Governo em Abril de 2017, pedindo a suspensão das concessões no sentido de "prevenir danos irreparáveis na economia, no ambiente e nas comunidades."
As prospecções de petróleo e gás natural trazem benefícios apenas às empresas petrolíferas, enquanto que os elevados riscos ficam por conta das populações locais, dos oceanos e das indústrias da pesca e do turismo. Practicamente 2 em cada 10 postos de trabalho são baseados no turismo, com lucros provenientes do turismo que totalizam os €13.2 biliões em 2017.
Meditação Global pela Protecção da Vida
Convidámos quem não se encontra em Portugal, mas pretende acompanhar em oração a acção de 4 de Agosto (a sós ou em grupo): utilize o seguinte texto de Sabine Lichtenfels, "Defender o Sagrado: Meditação Global pela Protecção da Vida", como leitura e meditação.
Sobre a Coligação
Em 2017, a forte campanha liderada por esta coligação de ambientalistas conseguiu que o Governo Português cancelasse 10 dos 15 contratos para concessão de prospecções de petróleo e gás natural. A vitória demonstrou o poder que surge com a união das pessoas. Acreditamos que unidos e ligados com a visão de uma sociedade justa e regenerativa, conseguiremos cancelar os restantes contratos e banir a exploração de combustíveis fósseis.
Abaixo listamos os co-organizadores e apoiantes desta campanha: