ISRAEL–PALESTINE:
WHAT IS THE PATH OF RECONCILIATION?
Following a call from Emma Sham-ba Ayalon and Rami Haruvi, a small team from Tamera travelled to Israel–Palestine to participate in a 3-day gathering from 21–23 June entitled "Gaza is Here." The gathering took place in an old ruin, today called the "Lighthouse," situated 3 km away from the Gaza border.
By Rui Braga, July 13 2018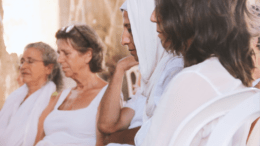 For more than 3 months now, Gaza citizens have risked and lost their lives calling for an end to the siege and for their right to return to the occupied territories. After 11 years under siege, Gaza is now officially considered uninhabitable and there's hardly anything left for its citizens to lose.
As a group of 50 Israelis, Palestinians and internationals, our 3-day gathering was a statement — we refuse to turn away from this. Still, what can we really do to break the underlying narratives that sustain the conflict?
For 3 days, we lived under the sound of drones, airplanes and light bombs. We witnessed a glimpse of the immense pressure exerted on Gazans by the Israeli military, which has become a painful fact of daily life for so many in the strip. We walked through the black fields, which had been torched by Gaza's burning kites.
Israel–Palestine is yet another climax of the logic of "protection" through militarization, "safety" through domination. For many of us in this gathering, it is clear that the peace movement needs to follow a different principle.
On both sides, it takes courage to refuse the narrative of fear and hatred and to speak up for communication and reconciliation. We are grateful for every voice and action embodying the logic of unification and simultaneously struck by the urgency of the unfolding humanitarian crisis.
Watch a short documentary about our 3-day gathering next to the border of Gaza.
Watch the solidarity action with Gaza Women's March.