Parar o Furo – Stop the Oil Drilling
We're part of a coalition of Portuguese environmental activist groups working to cancel all remaining contracts for oil and gas exploration in Portugal.
Portugal has the best conditions for pioneering the transition away from fossil fuels to a regenerative society.
Aerial Art Action – Cova do Vapor (Almada)
On August 4, 800 people gathered to use their bodies in a creative action to protest against the planned oil and gas extraction in Aljezur, Portugal, while showcasing alternatives for a regenerative future away from fossil fuels. WATER IS LIFE!
The aerial human image was designed by John Quigley of Spectral Q and filmed by Tamera Media. The images are published under a Creative Commons Attribution-Non Commercial license. Acknowledgment: Tamera Media / Spectral Q. Handout, editorial only, no archiving.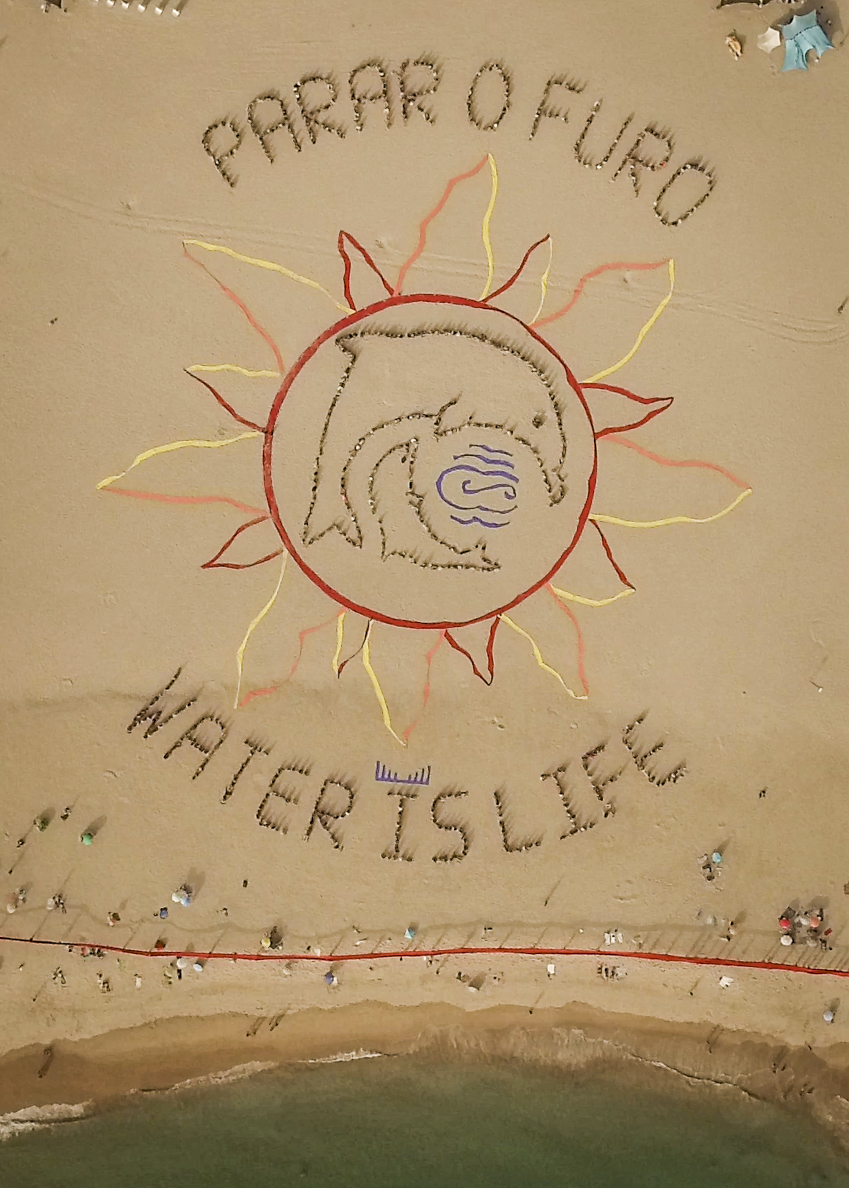 Download and share this image.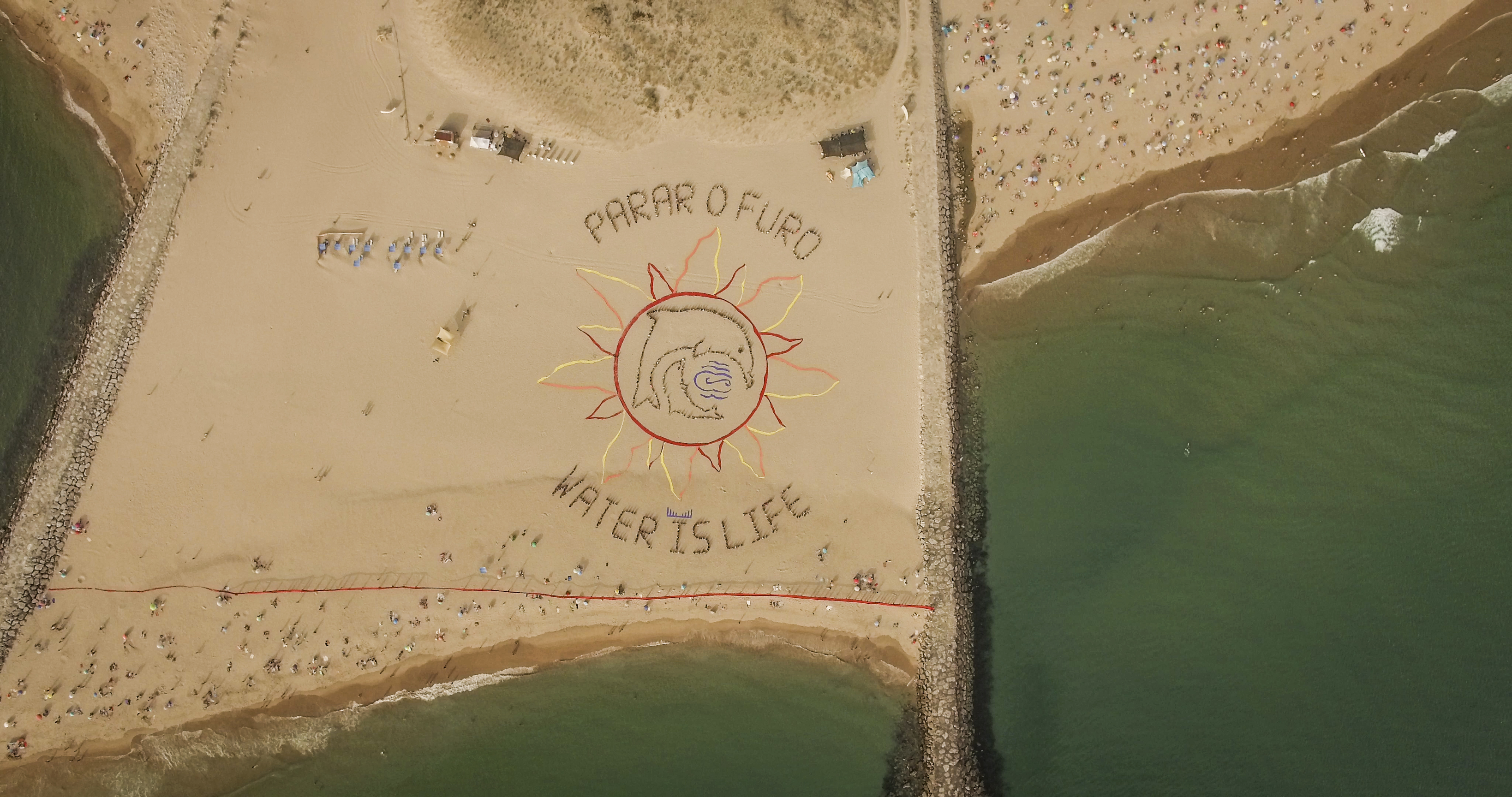 Download and share this banner image.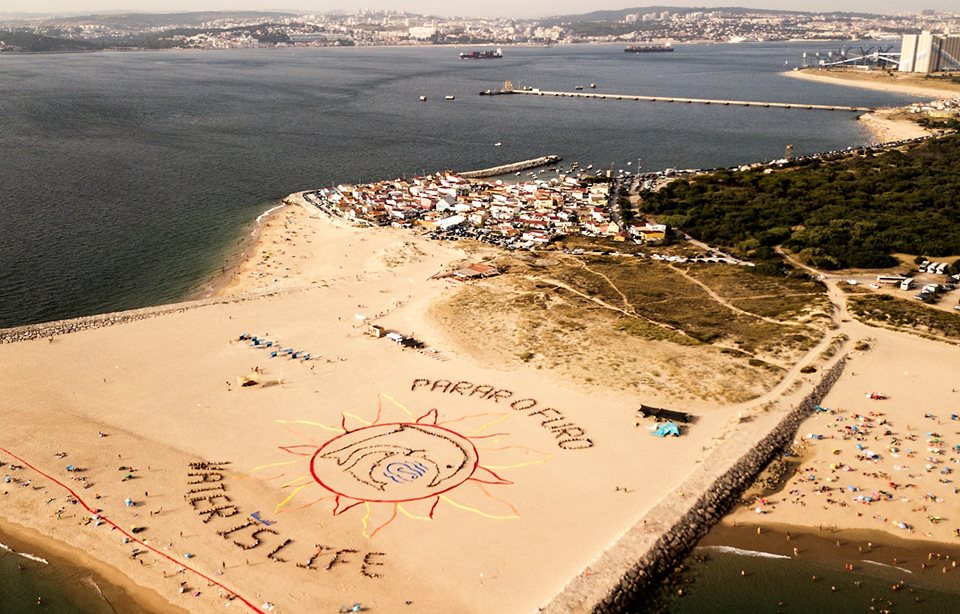 Download and share this image.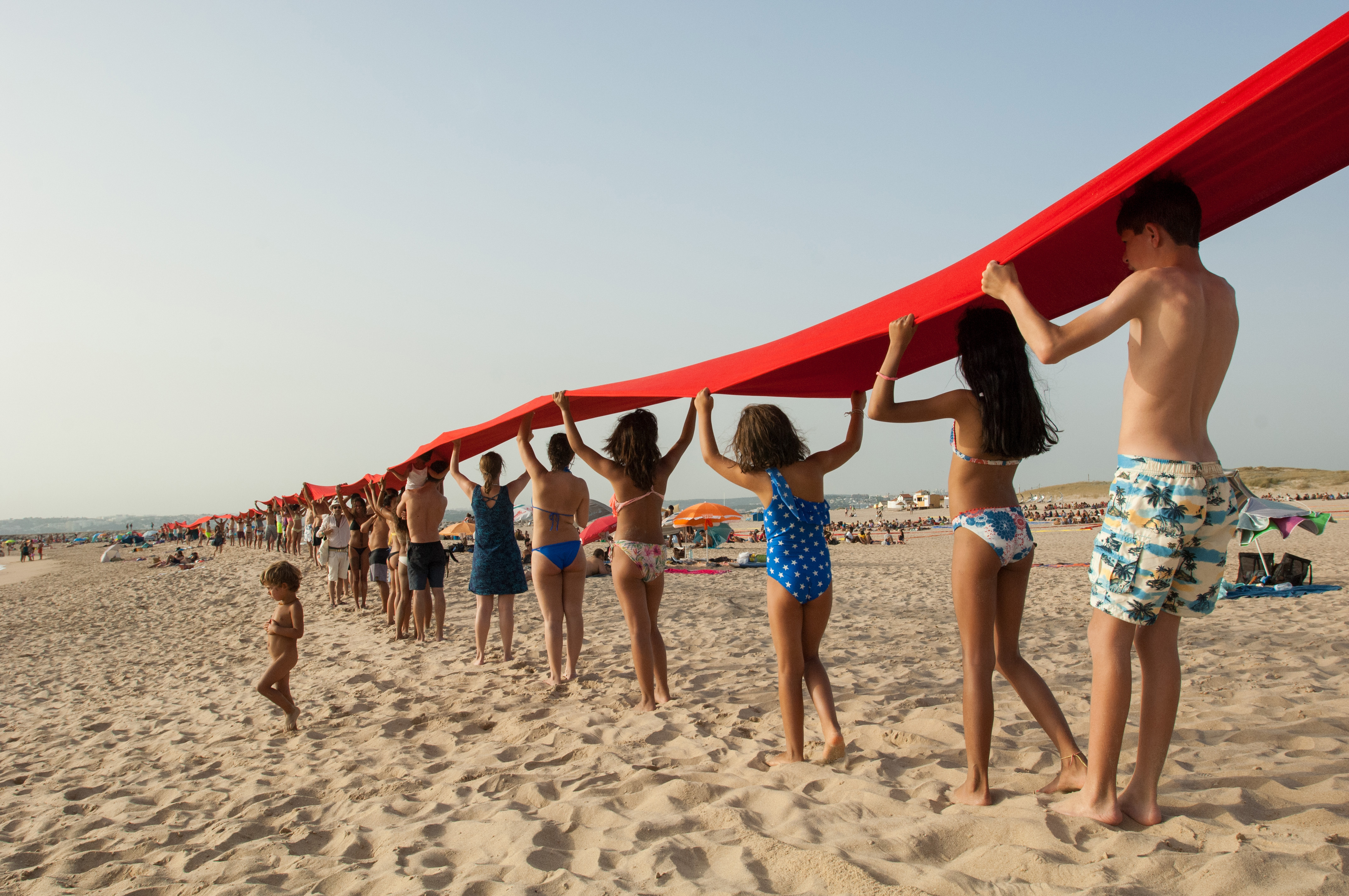 Download and share this image.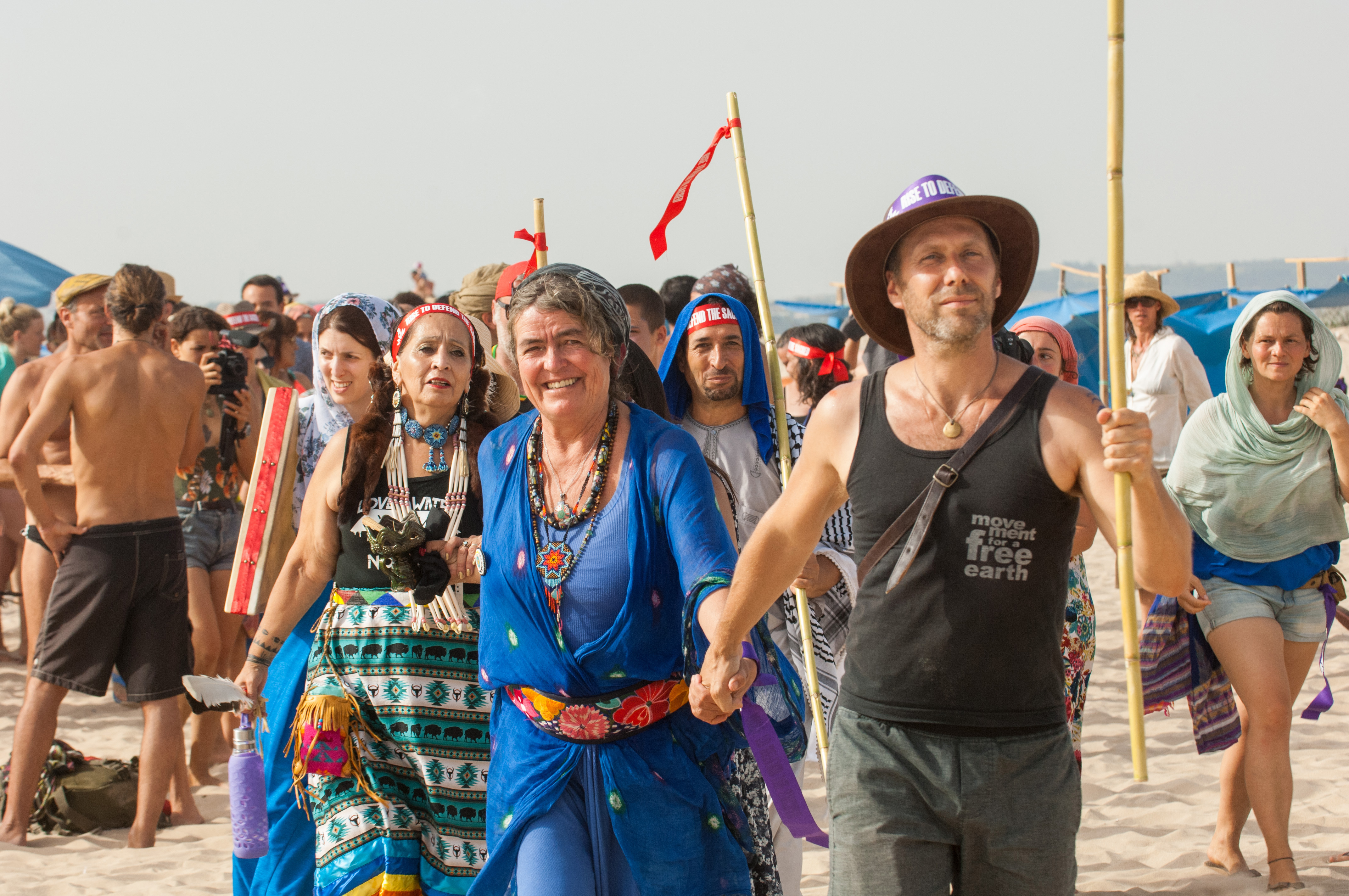 Download and share this image.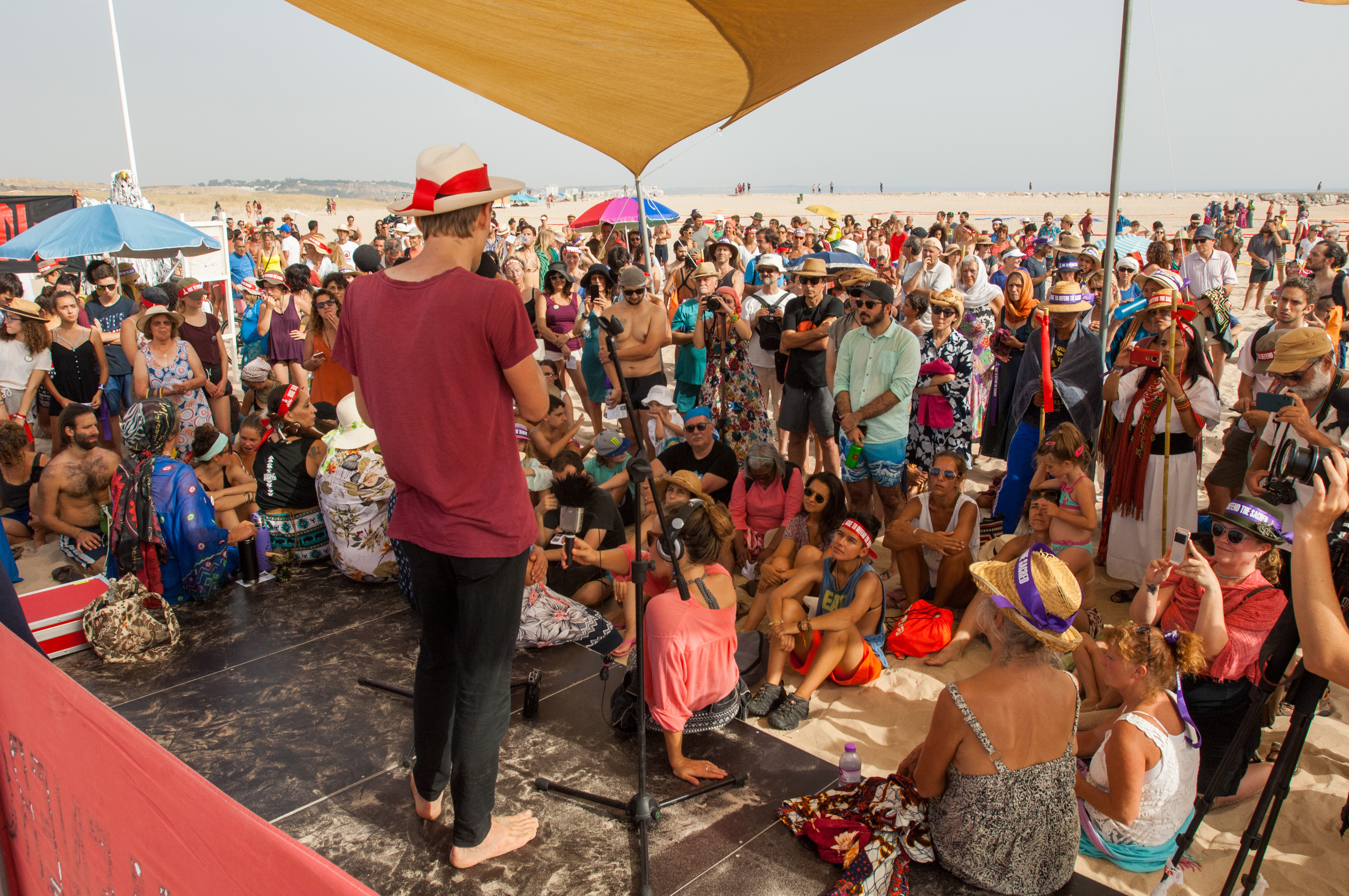 Download and share this image.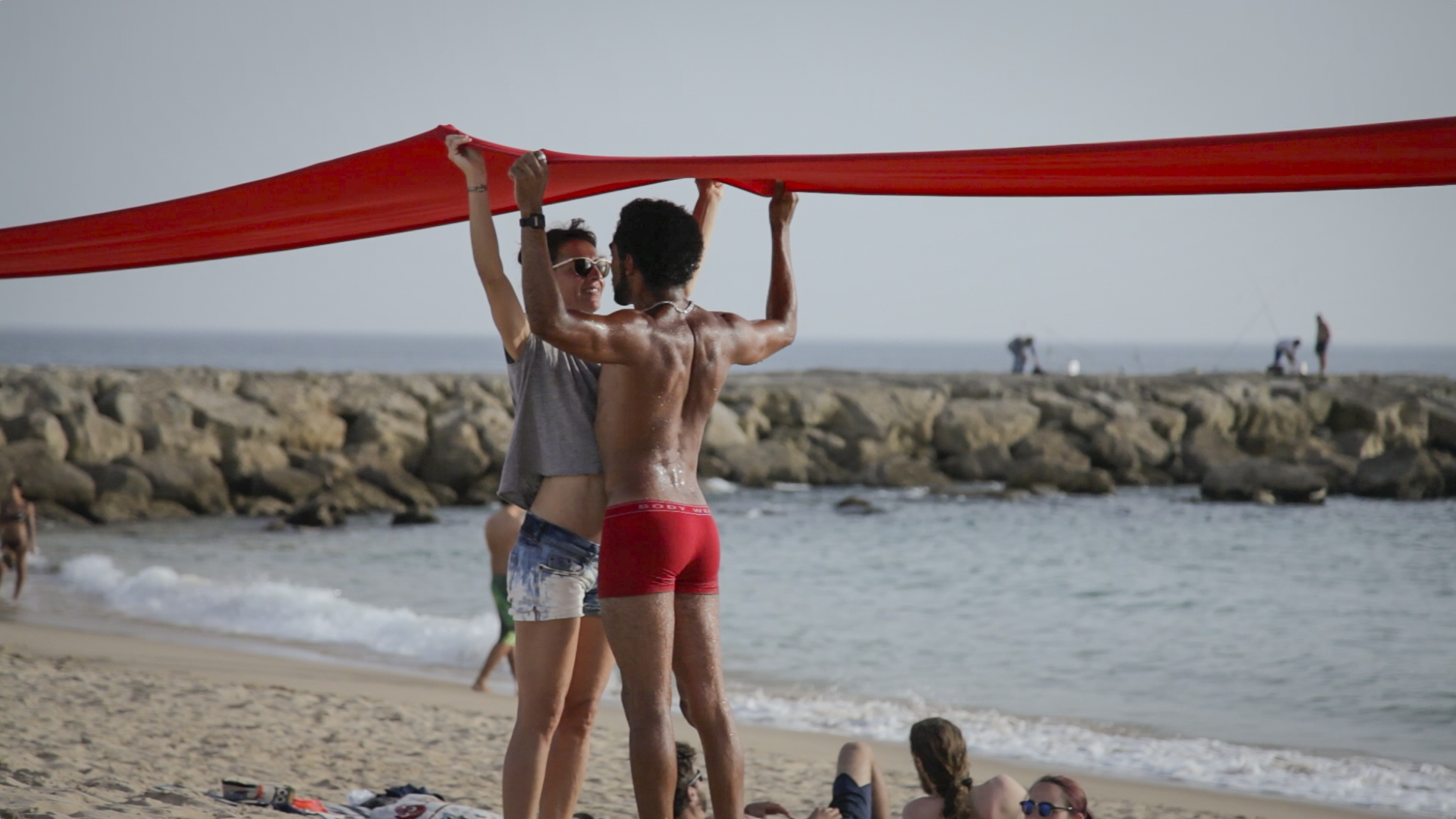 Download and share this image.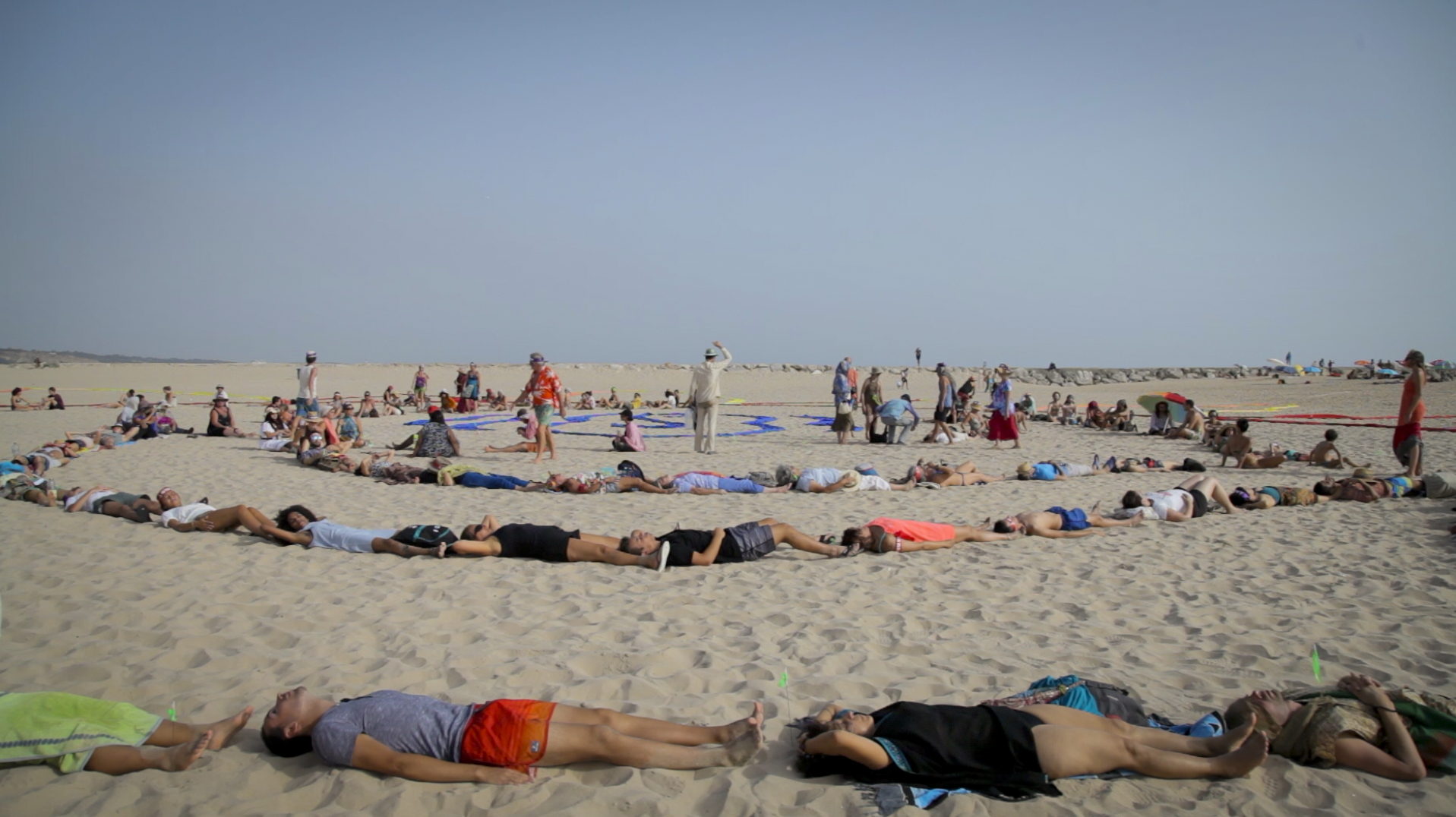 Download and share this image.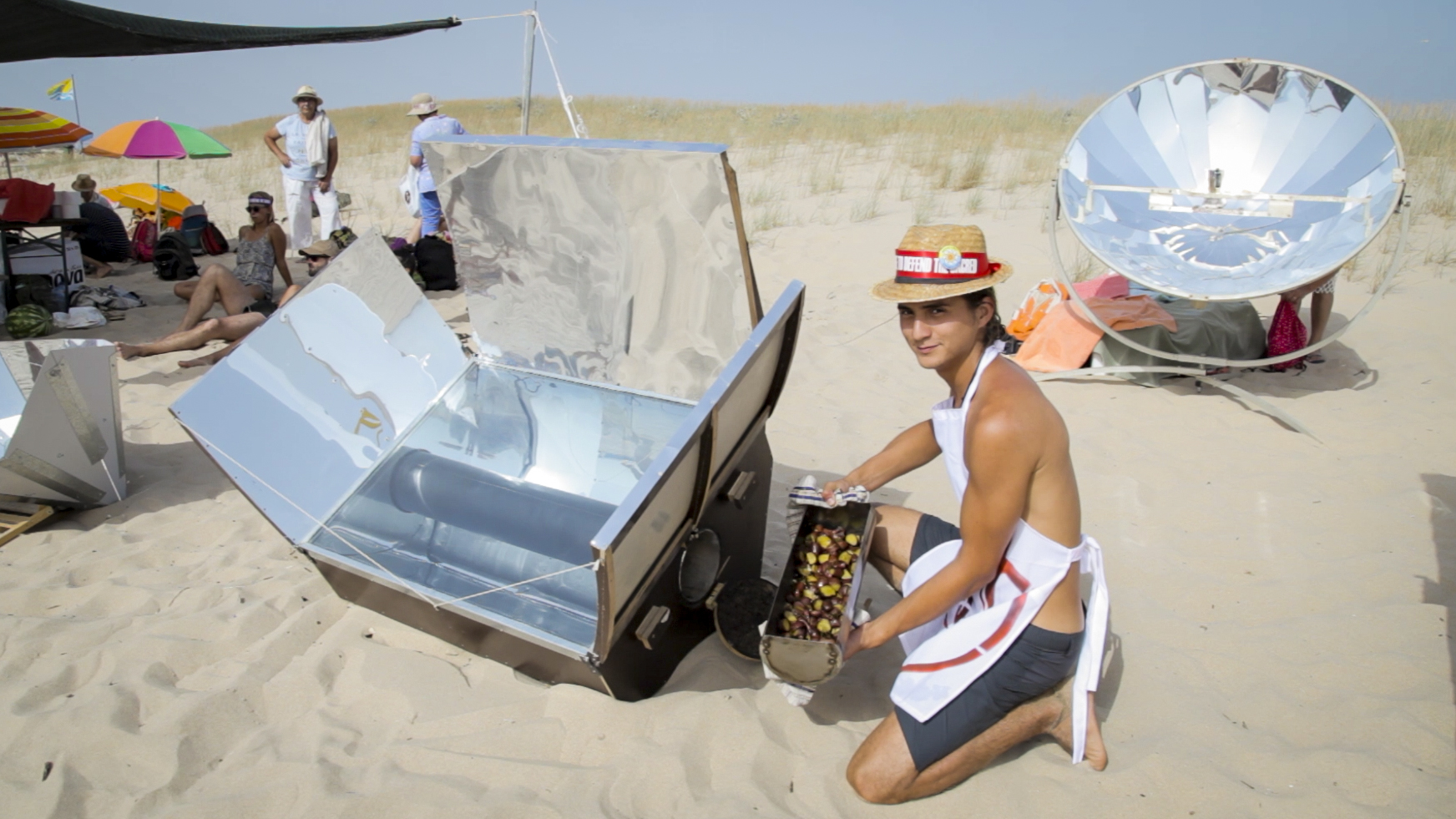 Download and share this image.
Press Release (EN)
Download the press release in English.
Press Release (PT)
Download the press release in Portuguese.
Support Our Open Letter
Many Portuguese and global influencers are joining us to call upon Prime Minister António Costa and the Minister for the Environment João Matos Fernandes to stop the drilling and show that Portugal can be a pioneer for energy transition, moving away from fossil fuels towards a just regenerative economy and society. Read our open letter to the government…
The growing list of endorsements includes the Algarve tourist board (Região Turismo do Algarve) and the Portuguese surfer federation, as well as global voices like Greenpeace International, playwright Eve Ensler and Maude Barlow of the Council of Canadians.
See the growing list of endorsements:
Invisible
This one is added so that the other three all default to closed
International
Amber Valletta, model, actor & activist
Ashlan & Philippe Cousteau, ocean conservationists & TV hosts
Daryl Hannah, actress & activist
Debbie Levin, President & CEO of the Environmental Media Association
Ed Begley, actor & activist
Eve Ensler, playwright, writer, founder of One Billion Rising
Frances Fisher, actor & activist
Jason Hickel, anthropologist at the London School of Economics
Ladonna Brave Bull Allard, Lakota activist & co-founder of Standing Rock resistance camp, USA
Lori Woodley, founder of All it Takes
Maude Barlow, chairperson of the Council of Canadians, Right Livelihood Award recipient
Monique Wilson, global coordinator of One Billion Rising
Patch Adams, MD, clown activist, founder of Gesundheit! Institute
Positive TV, UK
Rabbi Michael Lerner, editor-in-chief of Tikkun magazine, USA
Rights of Nature, UK
Rising Up! UK
Rob Hopkins, Transition Network
Ruth Andrade, co-founder of Blueprint Alliance & responsible for environmental & organizational development at LUSH
Saad Dagher, agronomist & environmentalist, Palestine
Salim Dara, organic agriculture teacher & founder of Solidarité Rurale, Benin
Shailene Woodley, actor & activist
Shaun Chamberlin, Managing Director of the Fleming Policy Center, UK
Wellington Nogueira, clown activist and founder of Doutores da Alegria, Brazil
Wendie Malick, actress & activist
Winnie Wong, co-founder of "People for Bernie"
Sign the Petition
To support the open letter, we've launched a petition at Action Network. Please support us and sign it now!
"We currently possess all the necessary technological solutions and sources of renewable energy to power an ecologically and socially just society."
DANIEL PINCHBECK
In Tamera, we've been researching a comprehensive model for the foundations of a regenerative culture. We've developed and tested decentralized renewable energy technologies for many years, in our Solar Test Field. Because of our work with Water Retention Landscapes and ecosystem restoration, we're able to show how to reverse desertification and be water autonomous, even when 80–90% of Portugal is in severe drought. We collaborate with the Rain for Climate movement on implementing a global action plan for restoring natural water cycles and the climate.
There are many other people and organizations researching similar issues, working on regenerative settlements and a society where everyone can become self-sufficient in water, energy and food and establish housing and sanitation independently from centralized systems.
We hope as many of them as possible will join this aerial art action to connect and cross-pollinate ideas.
Get the Facts
Currently, there are still 5 active contracts for oil and gas drilling: 3 concessions for offshore deep-sea oil drilling and underwater fracking off the Alentejo and Algarve coast held by Eni and Galp, including one off the coast of Aljezur, and 2 for gas drilling on land in the Leiria district, held by Australis.
Of the 15 initial concessions for oil and gas exploration in Portugal, 10 have already been canceled in the last 2–3 years due to widespread resistance of local populations, municipalities and activists.
Portugal has never extracted oil or gas or built nuclear power plants and is known as a haven for green power.
At COP Marrakesh 2016, Prime Minister António Costa promised to decarbonize Portugal by 2050.
Portugal produced more renewable energy than it needed in March 2018: 104%
As one of the sunniest countries in Europe, Portugal could rely exclusively on solar energy.
Portugal is located on a fault line that is seismically active, especially in certain areas such as the Lower Tagus Valley (LTV), which passes through Lisbon. Oil and gas drilling can trigger earthquakes.
The Portuguese Environmental Agency authorized oil drilling off the coast of Aljezur to begin between September 2018 and January 2019, without an Environmental Impact Assessment. On August 13, the Loulé administrative court suspended the TUPEM licence, postponing the drilling, following an injunction filed by PALP. And on October 29, in a surprising u-turn, Eni and Galp declared their voluntary withdrawal from seeking oil extraction and said that they would not seek another contract with the Portuguese government after the existing expires (in January 2019).
Gas exploration is scheduled in Alcobaça, near the sacred site of Fátima and one of Europe's biggest natural water reservoirs in 2019. Experts confirm the only way to extract the gas is by fracking.
67 Portuguese scientists published an open letter to the government in April 2018 calling for a halt to "prevent irreparable damage to the economy, environment and communities."
The planned oil and gas drilling benefits a handful of oil companies, while local people, the ocean, fishing industries and tourism are most at risk. Almost 2 in every 10 jobs are supported by tourists, with revenue from tourists totaling €13.2 billion in 2017.
About the Coalition
A strong campaign in 2017 led by a coalition of environmental activists saw the Portuguese government cancel 10 of 15 oil and gas drilling contracts. People power! We believe that, united and connected to a powerful vision of a just and regenerative society, we can cancel the remaining contracts and ban fossil fuel exploration!
Those are some of the co-organizers and supporters of our campaign: