With our 3 legal bodies, we have an annual turnover of around 1 million euros. Yet much of our community economy takes place within a trust-based gift system outside the monetary system. If we calculated all these interactions within our community monetarily, our annual turnover would be at least 3 times higher.
Our Income and Expenses
The average annual turnover shown here doesn't include any investments. This amount increases significantly when we implement larger projects, such as the Water Retention Landscape.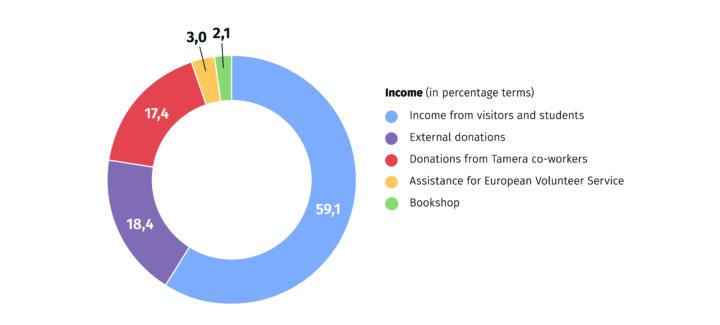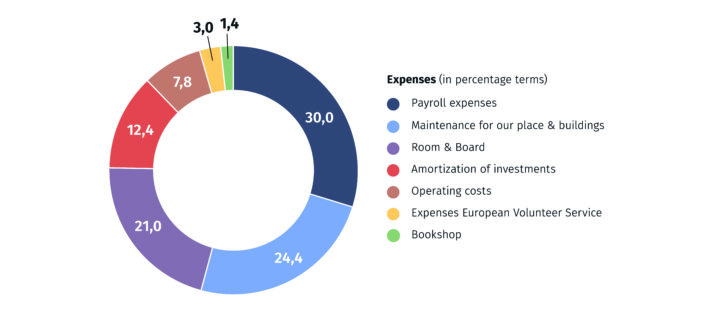 Gift Economy Within the Community
Our revenue and expenditure comes almost entirely from our interaction with the region and the wider economic and financial cycles we are involved in. (To be able to present a comprehensive alternative to the existing capitalist system in the economic and financial areas, we're preparing a model for regional autonomy in cooperation with our partners.)
Within Tamera, tasks and services are taken on by co-workers, volunteers and friends. We have developed an economic gift system based on the ethics of trust. Everyone voluntarily contributes their knowledge and commitment without monetizing its value. These tasks and services include:
the volunteer work of co-workers and volunteers
the services mutually shared by co-workers (e.g. child care, education, translation, health care, manual labor, administrative work, cooking, site maintenance and cleaning, etc.)
the financial contributions that co-workers make to the community (for example for network travel).
---
The prerequisite for such a gift system to work is a high level of trust among one another and we continuously foster it through community building. This is how the co-workers themselves are the greatest idealistic and financial supporters of each other and help to significantly reduce operating costs. In addition, there is a high degree of economic support among ourselves.
---
To continue and deepen our research, education and peacework, we rely on financial contributions. Support us with a one-time or regular donation.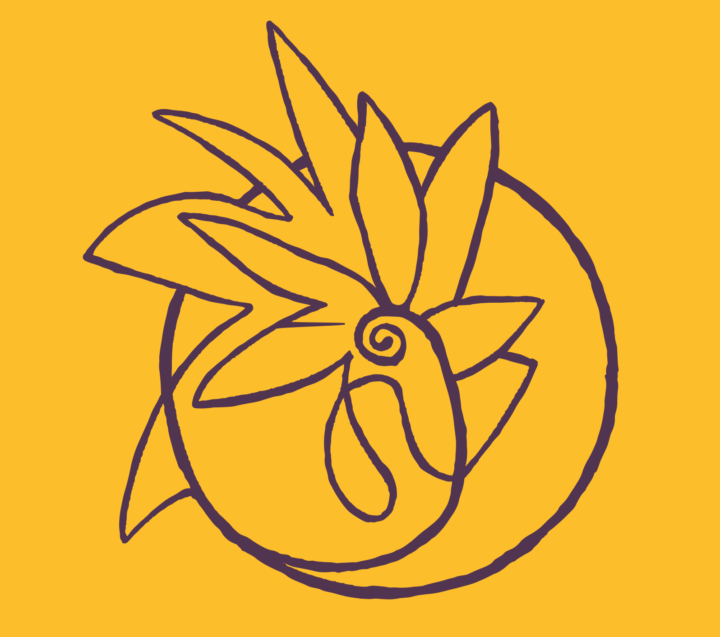 Be part of manifesting a global peace plan. With your donation, you can help us maintain and broaden our research, education and outreach programs.