Activist Retreat
Nourishing the Revolution
This is a time of unprecedented danger, but perhaps also of unprecedented opportunity. Accelerating systems failure, climate emergency, mass species extinction, surveillance capitalism… How do we respond? What is ours to do? At this nexus of collapse, grief and mystery, we invite frontline activists, organizers and others active in systems change for a creative, regenerative pause, 10 days of experiential group immersion, nourishment for body, heart, mind and spirit, of ritual and conversations on the edges of our activism and our lives.
"As Capital triumphs over the Social as against all spiritualities, spirituality itself finds itself realigned with revolution."
Hakim Bey
"The times are urgent; let us slow down."
Bayo Akomolafe
With this retreat, we wish to create a safe space for leaders, activists and organizers to come together in community, hold each other in care, and work on core questions of our activism, personal lives and collective evolution.
While our conversations and processes will be emergent, depending also on the group's interest and contributions, we would love to explore the following inquiries with you (without guarantee we'll get to all of these):
What are our current edges on the personal, movement and collective levels? How can we support each other as we encounter those limitations?
How can the way we live be more coherent with the world we want to create? Which inner transformations and shifts of consciousness are we invited into, to help catalyze political transformation in our struggles and societies at large? How are our own intimate questions around love, sexuality, spirituality, power and meaning linked with our politics?
How are we ourselves perpetuating the very dynamics we seek to interrupt? How could we respond to crisis and collapse in ways that increase empathy and connection, rather than fear and control? How to act fully without attachment to outcome?
How do we deepen our imagination of post-domination futures? How could they practically come about? What are realistic pathways to concretely build social, economic, political realities post-capitalism?
Which practices can nourish and sustain us, in service of system change? How can activism be an invitation to healing, an embodiment of the sacred or whatever we might call great mystery?
And crucially, in addition to our own agendas, timelines and phantasies of human centrality, what do Earth and our more-than-human relatives want us to do?
We believe the success of our ambitions for societal transformation rely not only on critical mass but critical connections. Not only on more efficient mobilization and strategy, but on qualitative shifts and leaps of consciousness within ourselves and among one another. As adrienne maree brown suggests, "What we practice at the small scale sets the patterns for the whole system." Turning ourselves into laboratories of transformation, we will experiment with inner shifts as seeds of new possibility for the larger contexts we're part of.
Honoring and tending to our physical being, we will practice body work, embodied cognition, somatic co-regulation and enhance sensual experience.
To cleanse our emotions and open our hearts, we will engage in practices daring intimacy with each other through council and Forum, spaces of expressing grief and gratitude, knowing that, as Miki Kashtan says, "Mourning antidotes the urgency that prompts us to respond in patriarchal ways."
To declutter and expand our minds, we will begin with some days of digital detox (i.e. time without digital devices!), seed doubt and awe, and collaborate creatively around the questions that most matter to us.
To nourish our spirits, we will spend time in ritual, silence and shared listening.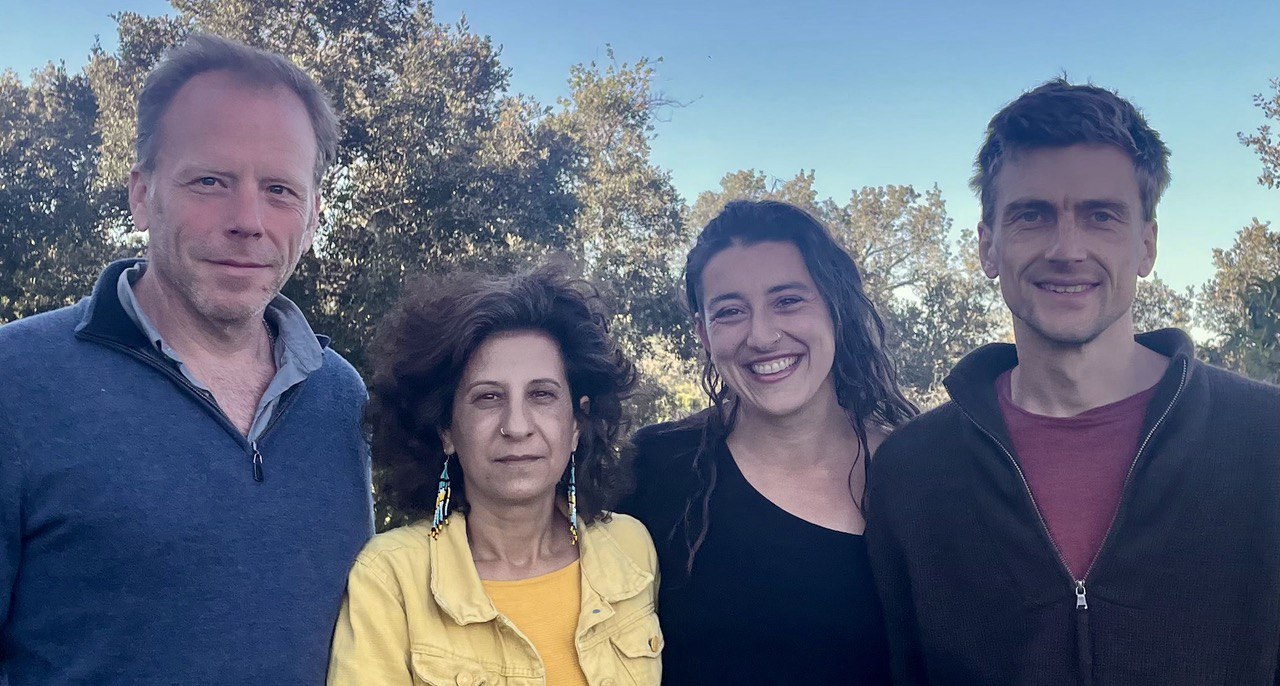 Frederick Weihe (he/him) is co-worker of Tamera working mainly on decentralized energy technology, and as part of the Love School. He is currently active in reforming Tamera's administrative structure, and often co-holds seminars and other guest groups, in person and on-line.
A'ida Al-Shibli (she/her) is a queer Indigenous Bedouin woman from Palestine who grew up under Israeli occupation; she is a nurse, feminist, ecological and peace activist, long-term member of Tamera, the founder of Global Campus Palestine and part of the "Defend the Sacred Alliance."
Dara Silverman (she/her) is a next-generation leader of Tamera's Love School, carrying a dream of the healing powers of love and eros for a post-patriarchal world. She is deeply grateful to work with people as a facilitator. Her activism has mainly been centering LGBTQ+ issues, refugee and international solidarity.
Martin Winiecki (he/him) is an activist (mainly focusing on ecology and international solidarity), long-term member of Tamera and co-initiator of the "Defend the Sacred Alliance." His writings have appeared in Kosmos Journal, CommonDreams, TruthOut, Films for Action and other outlets.
Prerequisites
To start from a common ground, it's necessary you have either participated in one of our onsite introduction seminars or – if you're new to Tamera – you will join 2 introduction days directly before the retreat begins. We also recommend taking one of our online courses.
Please fill out this application form at your nearest convenience, as we only have a few places left. There are 30 seats and we'll prioritize organizers and movement leaders, people from marginalized backgrounds, from Portugal and the geopolitical south.
Cost
Sliding Scale from
€890 to €1450
(including seminar fee, board & accommodation)
Why are we using a sliding scale?
We're aware this cost is high for many activists but we rely on seminars for maintaining ourselves financially and we offer a solidarity fund for those who can't pay the lower end of the sliding scale. If that's you, please apply when you register for the course. If you want to support others, consider contributing to it. In that way, we hope finances won't be a barrier to participation.
Our invitation to Portuguese nationals.
Payment Policy
Once you have filled out the registration form, we will send you an email with instructions on how to pay.
Please note that in order to confirm your registration, at a minimum, you must pay a non-refundable registration fee of €210.
Accommodation
Dormitories, own tent, or own van.
A room in the Guest House can be booked at an additional cost.
Food
Vegan full board
Language
English
Arrival and Departure
Please arrive the day before the course begins and depart the day after the course finishes.
Children
Please note that it's not possible to bring children to this course.
Pets
Please note that it's not possible to bring pets to this course.