"What Does Freedom Mean?" Tamera's Participation in "One Billion Rising" 2020
On February 14, the Tamera community will participate for the 7th time in the worldwide dance campaign "One Billion Rising" denouncing violence against women and girls. This time together with the women´s prison establishment of Odemira.
Haneen Abualsoud, February 3 2020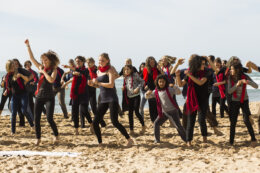 One Billion Rising is a global campaign founded by Eve Ensler who as an activist has been giving a voice to women and upholding women's rights to end rape and sexual violence against women and girls. The 1 billion refers to UN statistics that "one in three women across the planet will be raped or beaten during her lifetime." Ensler started the campaign with a song and a dance choreography on February 14 2012. The simple sign of this movement is the "V": for valentine, victory and vagina. By 2013, countless groups were dancing in the streets of 200 countries to rise for revolution, and the movement keeps growing yearly.
More and more, they felt that they had not only to focus on the violence against women but to enlarge the topic to all forms of violence. Every year they chose a different topic. Since 2019, the movement promotes a shift from a campaign to a way of life. Eve Ensler: "Together we have been rising to free women from sexual and physical violence in its obvious forms, to end violence against women. Now we have to commit ourselves to a deeper examination of violence in all its forms, along with sexual and physical violence. We have to include action against systemic violence in economic, political, social, cultural, environmental, patriarchal structures. It has become imperative for us, to expand our understanding of women's oppression and exploitation in the context of capitalism, colonisation, racism, imperialization, and war. Our rising must now connect to common universal humanity that binds us all. This is no less than the way of seeing and the way of being in the world, it is not one day that we rise, it is a way of life."
Tamera started engaging with the movement and participating in 2013. Janka Striffler, a co-worker of Tamera and a former dancer, took the decision to participate in this movement every year, with the support of the community. In 2019, she was invited to a conference of European coordinators of this movement and was asked to become the coordinator of all activities in Portugal, with Tamera becoming an official ally of the movement.
The theme of 2020 is: "Raise the vibration and rise for revolution." This year, Tamera´s action is happening in the prison establishment of Odemira together with a group of inmates. This was inspired by a video about a One Billion Rising dance in a Dallas prison in the USA. It took years to make it possible, many talks and trust building conversations with the heads of the prison establishment took place. Thanks to their great openness and willingness to cooperate, it can happen this year. The dance will take place on February 14, in the prison establishment of Odemira, and twenty people from the Tamera community are allowed to join the dance inside. The rest of the community, together with the local population, will dance in the city center of Odemira.
Janka: "I had quit my career as a dancer because I thought that dancing wouldn't make a change. Now with One Billion Rising, I see that dancing can be very political indeed. In the prison, I experienced that we can bring a heartbeat to women who lost their freedom because they had made a bad choice at one point in their lives. Twenty women from the prison are participating in the dance choreography. A group of five women from Tamera has been visiting the prison once a week to practice the dance and make council with the inmates. Every week we are listening to their thoughts and dreams, watching them dance with enthusiasm and passion. When I go out and the iron doors close behind me, I ask myself, do I really know what freedom is?"
For more information about One Billion Rising:
https://www.onebillionrising.org/