"Defend the Sacred" Conference 2019:
Watch Keynote Panels, Updates & Slides
Last weekend, more than 300 activists from around the world gathered for the 3-day "Defend the Sacred: Conference for Global Change-Makers" at Tamera. Participants included Indigenous elders, regeneration experts and leaders of various social, climate justice and liberation movements from the global north and south. A smaller group of 40 long-term partners came together the week before the conference for intercultural exchange, trust-building, reconciliation and vision work.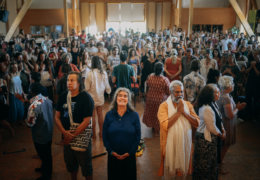 We will publish reflections on this powerful global confluence soon. For now, we invite you to watch the recordings of keynote panels, daily updates and some photographic impressions.
"What is Defending the Sacred?" (opening session, August 16): Ladonna Bravebull Allard (initiator of the Sacred Stone Camp at Standing Rock), Pat McCabe (Diné healer and peacemaker), Sabine Lichtenfels (Tamera's co-founder), Dona Eda Luiz (educational grassroots leader from Brazil), Tiokasin Ghosthorse (Lakota elder, host of First Voices Indigenous Radio) & Joshua Konkankoh (founder of Better World Cameroon).
"Climate Crisis as Initiation?" (August 17): With Tokata Iron Eyes (president of the Standing Rock Youth Council), Marina Nobre (co-founder of Reflorestar Portugal), Alnoor Ladha (executive director of /The Rules), Martin Winiecki (leader of the Institute for Global Peacework at Tamera) and Philip Munyasia (Founder of OTEPIC).
"Global system change is inevitable. What is our response?" (August 18): A conversation between Pat McCabe and Sabine Lichtenfels. (The video starts with different voices from the conference and unfortunately is quite choppy in the beginning. We solved that issue in minute 21. The conversation between the both women starts in minute 53.)
"Global Healing is possible" (August 19): Benjamin von Mendelssohn interviews Dieter Duhm (Tamera co-founder, sociologist, futurist) in German. Translated to English by Martin Winiecki.
Day 1 – with Martin Winiecki (leader of the Institute for Global Peacework at Tamera)
Day 2 – with Ladonna Bravebull Allard (initiator of the Sacred Stone Camp at Standing Rock)
Day 3 – with Benjamin von Mendelssohn (director of The Grace Foundation)
Day 4 – with Cláudio Miranda (musician and co-founder of Favela da Paz)
Day 5 – with Alnoor Ladha (executive director of The Rules)
Day 6 – with Nora Czajkowski and the youth camp
Day 7 – with Fernando Huanacuni (Aymara philosopher and former Chancellor of Bolivia)
Day 8 – with Dara Silverman (group facilitator at Tamera)
Day 9 – with Johannes Ewig (group facilitator at Tamera)
Day 10 – with Matthew Monahan (co-founder of New Frontiers)