Today, on January 1, we celebrate the 26th anniversary of the Zapatista uprising in Mexico and we send greetings of solidarity to all movements and communities worldwide attempting to leave capitalism and patriarchy behind and build alternatives. Even if these attempts are still being persecuted, we find an invincible trend in them: life's impetus to shake off its oppression everywhere. On this day, we're thinking primarily of Rojava and would like to inform you about the situation almost 3 months since the Turkish invasion began – as far as it's been possible to acquire information through eyewitnesses and media reports.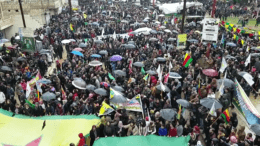 Rojava is the name of the multiethnic autonomy experiment in north-east Syria, which was founded by the Kurdish liberation movement and inspired by the vision of "democratic confederalism" by the Kurdish leader Abdullah Öcalan, who has been imprisoned in Turkey for 20 years. Over the last 7 years there has been a remarkable attempt by over 2 million people to govern themselves according to ecological, grass-roots democratic and gender-equitable principles. All important decisions are made by popular assemblies. Often scarred and traumatized by war, people try to heal themselves and to regenerate their land ecologically so that it can nourish its inhabitants again.
The Turkish invasion began on October 9 after Donald Trump, apparently following his spontaneous whims, withdrew US troops in a surprising change of strategy. At that time, the international media covered the brutal onslaught of Erdogan's troops and his proxy Jihadi mercenaries on a daily basis, yet over the past weeks it's been very difficult to get news from the region. We know of war crimes, bombings of hospitals and schools, torture, even the use napalm and white phosphorus. Over 400,000 people, mainly Kurds, have fled the area. Turkey quickly occupied a 150 km long and 30 km deep core area of Rojava between Gire Spi (Tell Abyad) and Serekaniye (Ras al-Ayn), which it has controlled since then. Following a military pact between democratic self-government and Assad, which placed Syrian and Russian soldiers in Rojava, the Turkish invasion could be contained within these areas.
Meanwhile, as announced, Turkey began forcefully moving Arab refugees into the occupied territories – mostly Syrians who had fled to Turkey to escape the horrors of Aleppo and Idlib. It's a practice of "ethnic engineering," deliberately aiming to provoke social conflicts and a long-term destabilization of the region. Erdogan's goal is to lastingly corrode the social fabric of Kurdish society.
Despite everything, people in Rojava hold up their gender-democratic self-government; the popular assemblies and women councils continue to run. Mass rallies are taking place in many cities where people – Kurds, Arabs, Assyrians, Armenians and others – defend the values and goals of the revolution. However, the pressure from Turkey, its jihadist proxies, the Assad regime, Russia and the USA is enormous. Forming unholy alliance and using all strategic means available, they're trying to undermine the Rojava revolution, because it embodies that which all imperialist and dictatorial regimes fear most: the attempt at an autonomous, free society outside the constraints of capitalism, nation-state and patriarchy.
The situation is highly complex and at times confusing; alliances quickly emerge and dissolve again.
We invite all friends and comrades worldwide to continue holding the daily prayer for Rojava. We give thanks to everyone that participated so far. We pray for peace in Rojava, for the protection of this region's humane impulse, for the continuation of the revolution. We pray that the members of different backgrounds sharing this land can unify across all ideological, religious and ethnic boundaries and that their common ground will outweigh hostility and separation.
For more information, please go to:
Call for donations:
Please support "Heyva Sor," the Kurdish Red Crescent, the only emergency aid organization on the ground!