Remembering Ladonna Brave Bull Allard
A great leader, wisdom keeper, "historic troublemaker" (Amy Goodman), dear friend and ally of our community has crossed the worlds and become an ancestor. We mourn Ladonna Brave Bull Allard, whose real name was Tamakawastewin ("Her Good Earth Woman" in Lakota), and bow in deep gratitude and respect for her unreserved stance for the water, the Earth, for people – for a world without oppression and injustice. We send our heartfelt condolences to her relatives and beloved ones and pray for her transition into the light.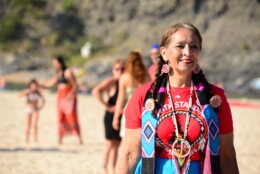 Photo: Ladonna Brave Bull Allard at the aerial art action against offshore oil drilling at Odeceixe beach, Portugal, in August 2017.
We feel very honored and privileged to have known and worked with Ladonna. In her unequivocal stance for defending life and the depth of her connection to the Earth, she embodied prayer in action. As a Lakota historian, she helped to preserve and protect her people's culture and memories from their ongoing and reckless erasure by white colonial culture. As a member of the Standing Rock Sioux Tribe in Turtle Island (a land now often referred to as the United States), she lived prophecy by opening her property along the Cannonball River in 2016 for the first resistance camp against the Dakota Access Pipeline and co-initiating a historic movement of water protectors around the country and the world. The movement became much bigger than Standing Rock, a seed for the world.
At the time, Ladonna wrote, "This movement is not just about a pipeline. We are not fighting for a reroute, or a better process in the white man's courts. We are fighting for our rights as the indigenous peoples of this land; we are fighting for our liberation, and the liberation of Unci Maka, Mother Earth. We want every last oil and gas pipe removed from her body. We want healing. We want clean water. We want to determine our own future. … We have no choice but to break the cycle of trauma so our future generations can have a better life. I believe it starts with the water and ends with the water. Water is life. Will you stand with us?"
As a community, we closely followed the events at Standing Rock in 2016 and 2017 in prayer. The calling to stand up for the water everywhere and to rise in prayer encouraged us to stand up against the threat of fossil fuel extraction here in Portugal. We remain enormously grateful to Ladonna and other Indigenous leaders from around the world who, following our call for worldwide solidarity, came to Portugal to join the movement against the exploitation of the Earth and for a global culture of cooperation. We believe Ladonna's political and spiritual support was crucial for the movement's success against the threat of offshore oil drilling and fracking. She said, "The world stood with us, so I came to stand with you." And in coming here, she opened a process of profound reconciliation and healing, daring to step onto the lands from which the colonizers who brutally took her people's lands and lives once set sail. Ladonna later shared that she believed Portugal could bring change to the whole world if it were able to model a regenerative way of life.
Through our meeting and collaboration, the "Defend the Sacred Alliance" evolved, bringing together Indigenous, social movement and community leaders from around the Earth. Ladonna's example, vision and wisdom have been essential for the coming together of this global community practicing sacred activism in service of system change. Her natural insistence on water being the first and the ultimate cause, the authority of her non-negotiable "No" against any oppression and injustice, the immediacy of her solidarity, her profound wisdom of embodied connection with the Earth and her humor and straightforwardness helped make this alliance what it is and has helped a whole new generation of activists and water protectors stand for life. May her legacy live on through them, through us and through the whole Defend the Sacred Alliance.
As she reminded us, "I don't care how you pray. Pray! And then stand up for what is precious for our future generations. If we stand together and empower ourselves, we can do anything."
Sabine Lichtenfels, Dieter Duhm, Benjamin von Mendelssohn, Martin Winiecki, Vera Kleinhammes, Barbara Kovats, Aida Shibli and the whole Tamera community