In August 2017, 2018 and 2019 we hosted activists, movement leaders, Indigenous elders and youth from around 50 countries, all with experience in sacred activism, inspired by the movement of "water protectors" sparked by Standing Rock. Key parts of our gatherings included aerial art actions on the Odeceixe (2017) and Cova do Vapor (2018) beaches displaying messages to stop plans for offshore oil drilling in Portugal – a campaign that proved successful. The gatherings have led to the emergence of the Defend the Sacred Alliance, in which activists support each other, join in both action and prayer and collaborate towards system change.
Book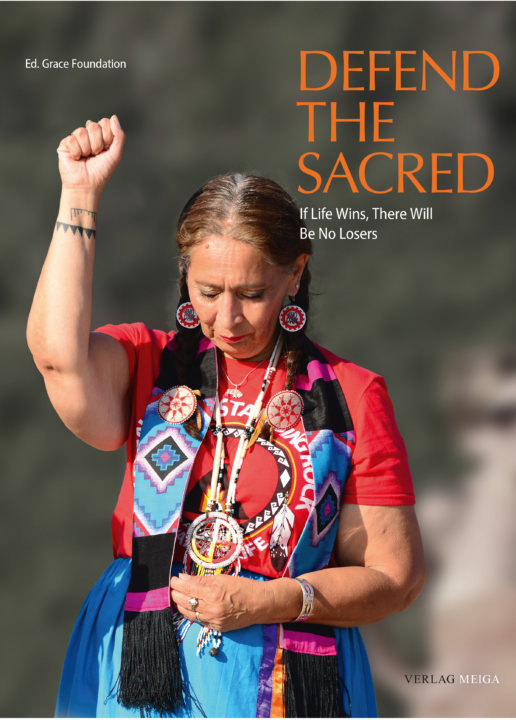 Edited by The Grace Foundation, "Defend the Sacred: If Life Wins There Will Be No Losers" (Verlag Meiga, 2019) features the work and vision of around 30 activists of the emerging alliance: people from around the world who, despite everything, don't give up.
They build autonomous communities, create livelihoods for whole regions, fight against the destruction of forests and the construction of dams, work for the restoration of natural cycles, green deserts and make soil fertile again. They turn slums into ecological neighborhoods, create new school systems, refuse to believe in the concept of hostility, develop global peace strategies and build social systems for the healing of love. Their contributions testify to a power which is in the hearts of all people. With this book, we want to awaken and strengthen this power in more and more people around the world.
Gathering 2019
The August 2019 gathering consisted of several interconnected parts: a first week of meeting between approx. 40 long-term cooperation partners for intercultural exchange, trust-building, reconciliation and vision work, a 3-day conference with approx. 300 participants and a seminar with approx. 80 participants in which included us joining an aerial art action against planned lithium mining in Serra da Estrela. Watch keynote panels, updates & slides from the conference…
Gathering 2018
In August 2018, we hosted more than 80 activists from around the world. Read Leila Dregger's report…
Follow the story of the gathering through the slideshow, by clicking the image.
On August 4, we brought together 800 people for an aerial art action at Cova do Vapor beach near Lisbon to stop plans for oil and gas drilling in Portugal. Know more and watch video…
Gathering 2017
We ran a successful crowdfunding campaign to bring international activists and leaders as participants and speakers.
See the story of the gathering in pictures by clicking the image.
Watch the talks, panels and films from the 2017 gathering
Opening speech: "What's Sacred Activism?" | Martin Winiecki
Cooperation with All Beings |
Sabine Lichtenfels
Healing Biotopes Plan |
Benjamin von Mendelssohn
Gentle Power – the Feminine Revolution
Defend the Sacred:
What is Sacred?
What is your message to the world?
Water is Life! |
Tokata Iron Eyes