Art times are spaces to experience another reality. For 10 days, we'll leave our daily behavior and thinking behind and enter the universal studio of art and creation. In community we'll open our perception for the interconnectedness of life and allow it to operate through us, using painting, sketching, creative language and inspiring thoughts. Art is a safe path to liberate the powers of life within us.
Creativity, Art and the Joy of Creation
"Art becomes the iconic writing of a world that can be experienced but not verbalized. Painting becomes the painting of icons, but this time at a whole different level. Those who participate in this process are actually transformed. They sit for hours in the sun or in the rain and paint, as if everything were at stake."
Dieter Duhm
Artists exist to realize this creative inner process, to find and form the images of paradise within themselves – first on the canvas, and then in real life (as far as this is possible). Nature, spirit and community that is unfolding are the foundations for this to happen.
This process of "wu-wei," of doing through non-doing, will be accompanied by a diverse group of artists, with different gifts, united by their love for painting and the Healing Biotopes Plan. They're happy to support their contemporaries and create a space of inspiration and life joy. In this way, artists at any level can easily and happily grab a paintbrush.
Community
This program is a special community experience. We'll live, eat, sleep and paint together at Tamera's Art Mountain. The infrastructure is very simple and it will be a kind of camping experience, as everything will take place outdoors. While facilities are simple, there is running water, electricity, internet, an outdoor shower and compost toilets, a log cabin with a small studio, a large outdoor studio with a shade roof, an outdoor kitchen and a wonderful view of Tamera and the surrounding landscape. We'll learn from more than 40 years of lived community experience as we build community through the intensity of living together for this time and through our shared passion for art.
If you don't know Tamera yet, please have a look at our website.
"To paint is to love again, to live again, to see again."
Henry Miller
Prerequisites
Recommended reading for your preparation: Towards a New Culture by Dieter Duhm (it can be freely downloaded in German & English)
Corona Guidelines
If you have questions or concerns about our guidelines relating to Corona you can sign up for one of our Zoom calls in the registration.
Cost
Sliding Scale from
€750 to €1310
(including seminar fee, board & accommodation)
Why are we using a sliding scale?
Please consider applying for or donating to our solidarity fund if you can't pay the lower end of the sliding scale or want to support others.
Our invitation to Portuguese nationals.
Cancellation Policy
If you cancel your participation to a course 2 weeks or less before the start of the program, we ask for a cancellation fee of €100.
Accommodation
We'll stay together at Tamera's Art Place. You either have the possibility to bring your own tent or to sleep in a big group tent.
Food
Vegan full board
Language
English/German (translation will be provided in both directions as needed)
Arrival and Departure
Please arrive the day before the course begins and depart the day after the course finishes.
Children
Please note that it's not possible to bring children to this course.
Pets
Please note that it's not possible to bring pets to this course.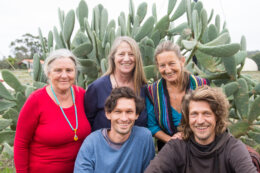 (Top from left: Bijou Lindstedt, Beate Moeller, Madjana Geusen. Bottom from left: Simon du Vinage, Lukas Mauermann.)
Bijou Lindstedt came to Tamera as a teacher to help develop our school. She has a big heart for our children, for art and is closely connected with our network and friends in Colombia. Beate Moeller is an architect. She was attracted by the project's comprehensive vision for reconstructing all aspects of our social life. In addition to other tasks, she works as an art teacher in our "Escola da Esperança." Madjana Geusen has been involved in our art projects for many years. In 2006, she edited the art book Man's Holy Grail is Woman: Paintings, Drawings and Texts by Dieter Duhm. Simon du Vinage is a photographer and artist, involved in youth work and is a life artist. Lukas Mauermann is a sculptor, painter and metal worker. He is always searching for a meaningful identity as an artist in today's world.