Defend the Sacred: International Activist Gathering
We invite activists from around the world to come together and build a global alliance. We believe that sacred activism – political action rooted in the honor and celebration of life's inherent sacredness – can provide a necessary spiritual foundation to bring the many individuals and movements looking for global system change together around a shared vision and strategy.
A year ago, we called for a first activist gathering, as we were deeply moved by the resistance of the Standing Rock Sioux Tribe and their supporters and allies against the Dakota Access Pipeline and the movement for "defending the sacred" they had sparked. In August 2017, 40 activists from around the world – Indigenous elders and youth from North America (including initiators from Standing Rock), Colombia, Israel, Palestine, Brazil, Kenya, the Philippines, Europe, 35 countries in total – gathered here in Tamera to collaborate and envision a global alliance to defend the sacred.
A central part was the aerial art action at Odeceixe beach to stop plans for offshore oil drilling in Portugal, which turned out to be a resounding success. We prevented the drilling from happening last year, but the companies continue to press for it now and more will be needed to end their plans for good.
We published a common manifesto. An excerpt:
What was seeded by the peaceful opposition to the Dakota Access Pipeline at Standing Rock in 2016 must grow into a planetary movement; one that is globally unified and that transcends cultures, borders and beliefs. It is clear this is not only an Indigenous issue, but a world issue that affects all of us. (…) We unite as a planetary community to stand together for the sacred; to midwife a transition to a world in which humanity will no longer dominate but cooperate with all life.
More information about last years' gathering here.
We want to facilitate a growing global alliance in the spirit of "Defend the Sacred," in which activists from around the world can develop a shared platform and have annual gatherings to:
build a planetary community based on mutual support and profound trust,
develop and deepen a shared vision for a post-capitalist world,
create common strategies and collaboration toward system change,
anchor ourselves together in the experience of the sacred,
create a safe and protected space for healing and reconciliation work.
For a deeper understanding of our vision for this emerging alliance, please read Martin Winiecki's essay, published in Kosmos Journal: Sacred Activism: Movement for Global Healing.
For our upcoming meeting, we're happy to count already on the presence of Ladonna Bravebull Allard, founder of the first resistance camp at Standing Rock; Lakota elder Tiokasin Ghosthorse; Arhuaco spokeswoman Ati Quigua; aerial artist John Quigley; Winnie Wong, founding organizer of Occupy Wall Street and co-founder of People for Bernie; "Water Gandhi" Rajendra Singh of Tarun Bharat Sangh; water visionaries Michal Kravčík and Vlado Zaujec of "Rain for Climate" and climate change researcher João Camargo of Climáximo, among others.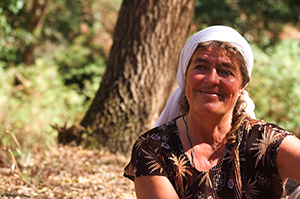 Sabine Lichtenfels is a theologian, peace activist and co-founder of the project.
In 2005, she initiated the Grace Pilgrimages in different crisis areas and was nominated for the Nobel Peace Prize as one of the "1000 Women for Peace." Sabine co-leads Tamera's Global Love School as well as our department for spiritual ecology, Terra Deva. She has authored various books, including, "Sources of Love and Peace," "Temple of Love"
and "Grace: Pilgrimage for a Future without War." Read more…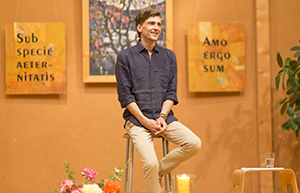 Martin Winiecki is a political networker and leader of the Institute of Global Peacework. Politically engaged since his early youth, in 2006 he took a break from school to visit and learn in Tamera, and ended up staying to finish 3 years of peace studies. Martin works on writing and publishing, networking and campaigning, organizing international events and providing online education. Read more…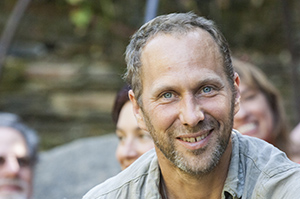 Benjamin von Mendelssohn is a dancer, choreographer and healer and one of Tamera's next-generation leaders. A speaker and global networker, he led our Institute for Global Peacework, focusing on the Middle East, for many years. Since 2012, he's co-led the Global Love School with Sabine, and since 2013, he's been directing The Grace Foundation. Read more…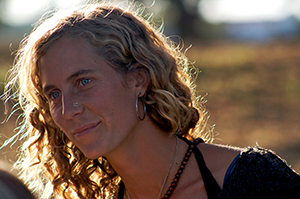 Vera Kleinhammes is one of Tamera's next-generation leaders. Having grown up inthe community, she's a community builder in service of the planetary movement.
Since 2011, she's dedicated herself to the Global Campus, accompanying partner projects in different countries, holding educational events in Tamera and the Global South, and guiding groups through crisis areas. At the same time, she facilitates groups in Tamera. Read more…
The gathering is on invitation only.
For further information, please contact us at office(at)tamera.org.
The main program will be from August 1–7 2018 and we ask you to commit for these seven days. August 8–10 will be reflection and networking time, in which we recommend you to stay, but this is up to you.
Arrival and Departure
The main program will start on the morning of August 1 and run through until the late afternoon of the 7th. Please make sure you arrive in Tamera on July 31 before 7pm and depart earliest on the morning of the 8th or as we recommend, on the 11th.
Food
Vegan full board
Language
English
Children
Please note that it is not possible to bring children to this course.