I'm a psychoanalyst, art historian and hold a PhD in Sociology. I developed the "Healing Biotopes Plan," co-founded the Tamera project and have authored several books.
Background
I was born in Berlin, Germany, in the middle of World War II in 1942. In addition to psychoanalysis, I studied sociology, cybernetics and art history in Freiburg. In 1967, I joined the Marxist movement after finding out about the crimes in the Vietnam War. I became one of the leading activists in the German students' movement in the Mannheim area, and a leading thinker and speaker for the movement nationally. In a flyer that was distributed all over the country in 1968, I coined the phrase, "Revolution without emancipation is counter-revolution." I developed this idea further in my first book Angst im Kapitalismus [Fear in Capitalism], published in 1972, which was a left-wing bestseller.
By the mid-'70s, I had begun searching for something deeper and I abandoned the Marxist movement which was riddled with infighting and was not offering a feasible alternative to the existing system. I saw that what is needed is not only economic revolution, but an entirely new foundation for human life on Earth. Developing a credible concept for a civilization without war became my issue for life – I remain committed to it to this day. I visited nearly 100 social and ecological projects around the world before retreating into hermitage for 6 months. During this time I delved more deeply into knowledge from western science, eastern and Indigenous philosophy, and conducted my own spiritual and transcendental experiments, in search of a possible way forward.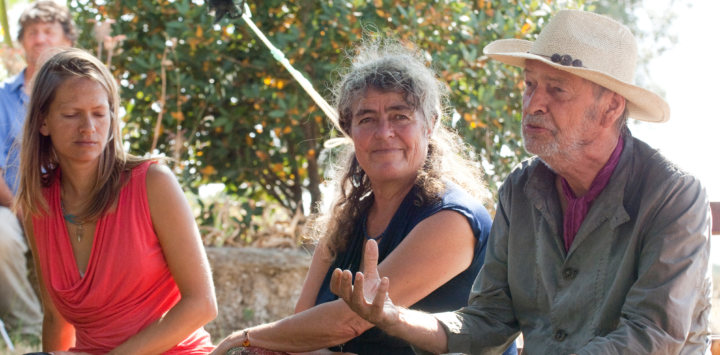 In 1978, with 7 fellow pioneers in Southern Germany, I founded the "Bauhuette" project, from which Tamera eventually emerged. The intention was to create a functioning community as a starting point for further reaching work. From 1983–86, I led a social experiment with 50 participants in the Black Forest in Germany, where we explored questions of the origin, meaning and aim of human existence. This experiment was a success and gave rise to a vision of communities around the world. In the late '80s I started to articulate this vision as the "Healing Biotopes Plan." In 1995, I founded Tamera in Portugal together with my life-partner, Sabine Lichtenfels and others, as a first "Healing Biotope."
I'm the father of a grown-up daughter, Mara, who is one of Tamera's young leaders.
My Role in Tamera
I serve as a writer, visionary, mentor and teacher for project leaders, our next generation and new students in the realms of Eros, art, healing and global peace work.
For more information, visit my website and subscribe to my Facebook page.