I'm a "life researcher" and community builder, accompany the Solar Test Field team and am part of Tamera's internal Women's Council.
Background
Born in Zurich, Switzerland in 1957, I've had the question since my childhood of how to create a world without suffering. Animals have been great teachers on my path to a cruelty-free life. My formal education included studies in prehistory and archeology. I was fascinated by the nature of humankind and its interaction with Earth in early settlements; then my quest turned to the future. Attracted by its radical approach to questions about community, Eros, love and meaning, I joined the "Bauhuette" project in 1986 and have been part of the project ever since.
In the early '90s, I joined ZEGG near Berlin, where I helped to coordinate the "ZEGG University" and set up an international network of peace initiatives and experts in various fields. This brought me in touch with genius inventors like Juergen Kleinwaechter, F. A. Popp and the late Alfred Wakeman. Since then, my heart has been beating for technological research in resonance with the patterns of nature, and for bringing it together with new forms of communitarian existence.
I joined Tamera in 1998 and since then I've been involved with the technology research.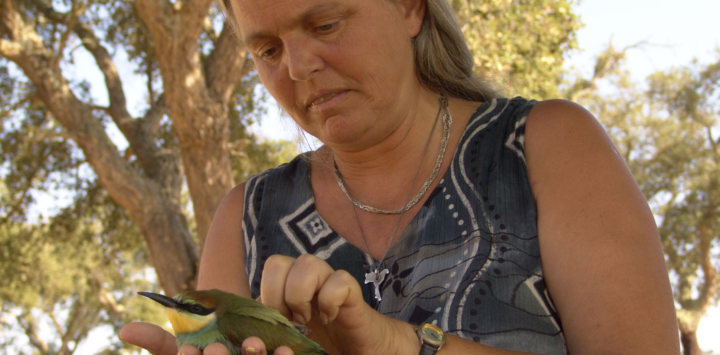 What Motivates Me
Ever since I got to know the project 30 years ago, I've been electrified by its political approach, which connects transforming oneself and building new social structures in true service to the world. It's revolutionary for me as a woman to be able to show and follow my sensual nature without being despised and judged. I see it as the adventure of our times to establish a model that shows solutions for the crises of today. I love how Buckminster Fuller puts it: "You never change things by fighting the existing reality. To change something, build a new model that makes the existing model obsolete."
My Role in Tamera
I coordinate the Solar Test Field in Tamera, supporting practitioners in various fields to collaborate with each other and Tamera, and to integrate their work into the Healing Biotopes project. Beyond this, I support people and groups with my social knowledge in building community. I'm also part of Tamera's Women's Council that deals with all kinds of social questions inside the community.