I'm a freelance journalist, working for a number of German, English and Portuguese publications writing peace news. In Tamera, my main responsibility is supporting the Portuguese network team.
Background
I was born in 1959 and grew up in Cologne, Germany. I studied journalism and hold a Master's in Agricultural Engineering. Focusing on the issues of peace, ecology, community and women, I have worked for press media and radio, and as a scriptwriter and director for theater and film for 25 years. I also hold training seminars in peace news and journalism for young people. I've visited communities and peace projects on all continents to get to know their ways of living, to connect them with each other and to write about them. I've worked in peace and relief projects in the Global South, for refugee relief and for models of regional autonomy in Europe.
From 2000 to 2003, I was the editor-in-chief of the German magazine, Die weibliche Stimme – für eine Politik des Herzens [The Feminine Voice – for the Politics of the Heart].
I got to know the project in 1983. Since 2003, I've lived in and worked from Tamera. Of all the communities I have seen, Tamera has intrigued me the most because of its radical commitment for the world. When I decided to walk the path of peace journalism, I couldn't imagine a better place to anchor my work and life.
I've worked for the Global Ecovillage Network (GEN) since 2011, an organization with advisory status to the United Nations, that connects many thousands of communities worldwide, including Tamera.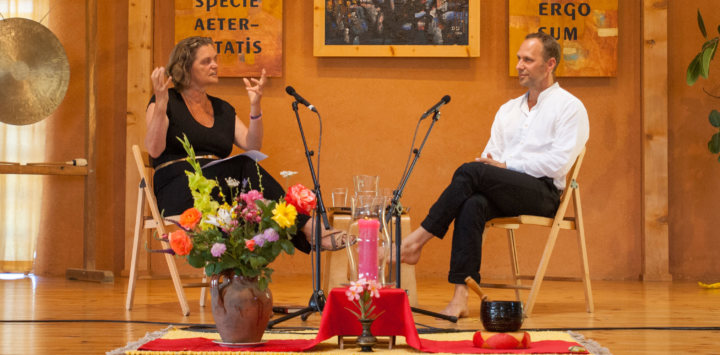 What Motivates Me
The view into the world – the daily reality of more than 60 million refugees on this planet. The groundless injustice and idiocy of capitalist globalization. We need a completely new system of life, a profound transformation in the ways we live on and with the Earth. Global healing is possible, even at this stage, if we can show alternatives. More and more people are looking for a way out of the old system – I want to show what they can step into.
My Role in Tamera
I write from and about Tamera and its network partners, contribute to many of Tamera's publications and accompany visiting journalists and filmmakers. I organize many of the bigger events happening in Tamera like the annual Global Love School. Ever since 2016, I have been active in deepening and growing our Portuguese network into the region and the country.